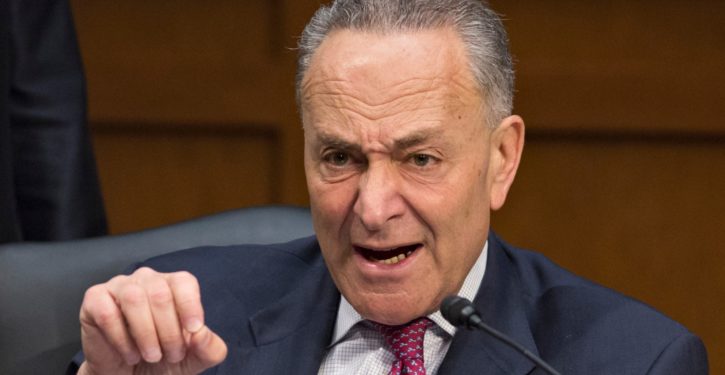 After ensuring that Donald Trump spent the first two months of his presidency without a full cabinet, Senate Minority Leader [score]Chuck Schumer[/score] (D-N.Y.) is looking for new ways to delay Judge Neil Gorsuch's inevitable Senate approval as the next associate Justice of the Supreme Court. At least the Senator's latest ploy is creative. He is urging Republicans to delay a vote on Gorsuch until the ongoing investigation into potential ties between Trump officials and Russia has been resolved.
The Hill quotes Schumer as saying:
It is unseemly to be moving forward so fast on confirming a Supreme Court justice with a lifetime appointment while this big gray cloud of an FBI investigation hangs over the presidency.
He was using the same gray cloud analogy as House Intelligence Committee Chairman Devin Nunes (R-Calif.) used the day before.
Trending: What a lab found on schoolkids' face masks when parents checked it out
During his first full day of questioning on Tuesday, Gorsuch performed more than admirably, as evidenced by comments coming from the liberal cable news networks:
CNN's John King: "Democrats Have Not Even Bruised, Blemished Anything To This Judge"
CNN's Nia-Malika Henderson: "Very Warm, Affable, Down-Home Kind Of Person"
MSNBC's Andrea Mitchell: "This Has Been A Slam Dunk"
MSNBC's Chris Jansing: "Impressively Disciplined Performance"
MSNBC's Ari Melbar: "I Didn't See A Single Glove Laid On Him. He Performed Himself Admirably."
Of course Schumer doesn't see it that way. He sees it as "the height of irony" that Republicans who blocked then-President Obama from filling the Supreme Court vacancy are "now rushing" to confirm Gorsuch. The senator is forgetting that the idea of blocking the confirmation hearings for a Supreme Court nominee in an election year is not unique to Republicans. Here's then-Senator Joe Biden in 1992:
I am sure, Mr. President, after having uttered these words some will criticize such a decision and say it was nothing more than an attempt to save the seat on the Court in the hopes that a Democrat will be permitted to fill it, but that would not be our intention, Mr. President, if that were the course to choose in the Senate to not consider holding hearings until after the election. Instead, it would be our pragmatic conclusion that once the political season is under way, and it is, action on a Supreme Court nomination must be put off until after the election campaign is over. That is what is fair to the nominee and is central to the process. Otherwise, it seems to me, Mr. President, we will be in deep trouble as an institution.
Schumer himself is guilty of this crime, having promised in July 2007 to try to filibuster any candidate that George W. Bush nominated:
"We should not confirm any Bush nominee to the Supreme Court except in extraordinary circumstances," Schumer said. "They must prove by actions not words that they are in the mainstream rather than we have to prove that they are not."
And with Schumer, obstructing judicial nominees isn't limited to just the Supreme Court, either. As The New York Times has noted, Schumer tried to block all of Bush #43's federal court picks:
When Charles E. Schumer recommended using an extreme tactic the filibuster — to block some Bush administration nominees for federal judgeships, he put himself in the cross hairs of the president's Republican and conservative allies.

Over the last two years, Mr. Schumer has used almost every maneuver available to a Senate Judiciary Committee member to block the appointment of the more controversial judges nominated by the Bush administration, drawing fire from the political right for both his method and his success. [Emphasis added]
One way or another, despite Schumer's tantrums, Gorsuch will be on the Supreme Court bench before Tax Day. If there is a filibuster, Majority Leader [score]Mitch McConnell[/score] (R-Ky.) will invoke the "nuclear option," reducing the necessary votes to a simple majority.
Schumer has already urged McConnell not to take that step, arguing in an op-ed he penned for Politico Magazine:
Nominees to our nation's highest court must demonstrate that they are mainstream and independent enough to earn the support of at least 60 senators from both parties. Both of President Obama's nominees to the Supreme Court exceeded that level of support. The simple question we are asking is: Can President Trump's nominee meet that same test? If the nominee fails to meet 60 votes, the answer isn't to change the rules; it's to change the nominee.
That's easy to say for a senator from a party whose nominees usually zip through with little or no opposition. But when you evaluate candidates nominated by GOP presidents, the process is not always so quick or bipartisan. Think Robert Bork.
Here's an historical breakdown from over the last several decades:
Sadly, Schumer's call for a delay has nothing to do with the Democratic Party's search for an answer to the question of whether Trump or his campaign colluded with Russia. Nor does it have anything to do with precedent or senate tradition. Schumer is proving that he doesn't really care about anything but his party regaining power.