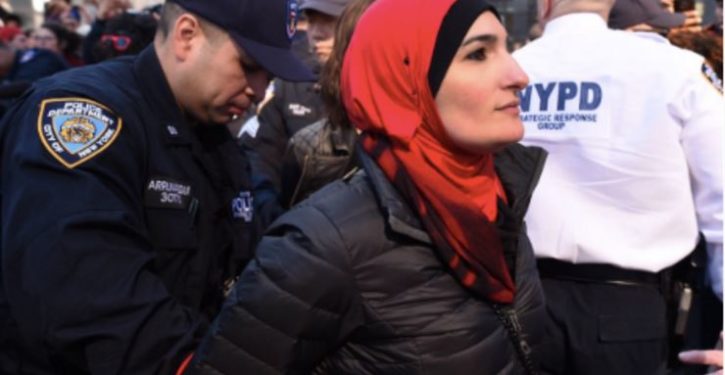 No one promised them it would be a day without laws.
According to Gothamist, Linda Sarsour, one of the lead organizers of the Women's March on Washington and executive director of the Arab American Association of New York, was arrested in Columbus Circle, along with two other activists: Tamika Mallory and Carmen Perez.
At around 1:35 p.m., Sarsour and company tweeted that they were blocking traffic as a form of civil disobedience:
We are blocking traffic as a form of civil disobedience in Columbus Circle (outside Trump Hotel). #DayWithoutAWoman

— Women's March (@womensmarch) March 8, 2017
They were fortunate that New York is not one of the localities currently considering laws that indemnify drivers who run down and even kill pedestrians blocking traffic to make a political statement.
At the height of the demonstration, an estimated 400 people gathered in Columbus Circle and were ordered by the NYPD to disperse. When they failed to comply, officers slapped the cuffs on Sarsour, who was led away along with fellow cronies.
Linda Sarsour was just arrested outside Trump International for disorderly conduct. pic.twitter.com/SOais39G7L

— Isaac Saul (@Ike_Saul) March 8, 2017
The NYPD could not initially confirm how many people were arrested or say what charges would be leveled against them, though unlawful assembly and disorderly conduct were later cited as charges. Another tweet shows a paddy wagon filled with women being hauled off to jail.
We are not sure what precinct we are being taken to at the moment. But we are together, reSisters. #DayWithoutAWoman pic.twitter.com/r10WBikdl8

— Women's March (@womensmarch) March 8, 2017
Finally, here's a bunch of them walking arm-in-arm and caterwauling:
We who believe in freedom cannot rest. #DayWithoutAWoman #IStrikeFor pic.twitter.com/XPdote68kW

— Women's March (@womensmarch) March 8, 2017