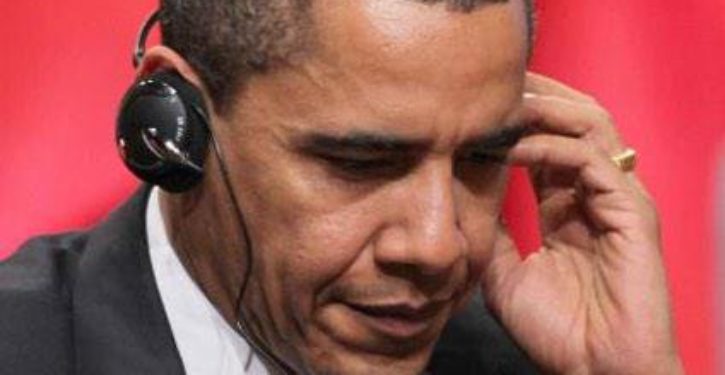 President Donald Trump has accused former President Barack Obama of wiretapping Trump Tower.
On his radio show earlier this week, Mark Levin discussed what he called "a silent coup" being waged by the Obama administration in trying to take down Trump over contacts with Russian officials.
"There's a much bigger scandal here," Levin claimed. "We have a prior administration. Barack Obama and his surrogates, who are supporting Hillary Clinton and her party, the Democratic Party. Who were using … intelligence activities to surveil members of the Trump campaign, and to put that information out in the public."
"Those are police state tactics," he added.
Trending: Student wrongly arrested for rating female classmates on Twitter
Indeed, in June of 2016 the Obama administration filed a request with the Foreign Intelligence Surveillance Court (FISA) to monitor communications involving Donald Trump and several advisers. It was declined.
In October, a new request was submitted, written far more narrowly, and granted according to Heat Street "after evidence was presented of a server, possibly related to the Trump campaign, and its alleged links to two banks; [sic] SVB Bank and Russia's Alfa Bank."
No evidence was found, but the Justice Department pursued it as a national security investigation. Thus, the wiretapping of Trump Tower continued.
Now President Trump is asking, whether it it legal for a sitting president to be wire tapping one of the major party candidates for president prior to an election. Quite honestly, America should be demanding answers to this question as well. If these allegations turn out to be accurate, what Obama and his minions have done is at least on par with what happened during Watergate.
Terrible! Just found out that Obama had my "wires tapped" in Trump Tower just before the victory. Nothing found. This is McCarthyism!

— Donald J. Trump (@realDonaldTrump) March 4, 2017
Is it legal for a sitting President to be "wire tapping" a race for president prior to an election? Turned down by court earlier. A NEW LOW!

— Donald J. Trump (@realDonaldTrump) March 4, 2017
I'd bet a good lawyer could make a great case out of the fact that President Obama was tapping my phones in October, just prior to Election!

— Donald J. Trump (@realDonaldTrump) March 4, 2017
How low has President Obama gone to tapp my phones during the very sacred election process. This is Nixon/Watergate. Bad (or sick) guy!

— Donald J. Trump (@realDonaldTrump) March 4, 2017
Now there are reports that the Obama administration preserved the intelligence they had attained regarding Russia, lowered the classification on it so as to be shared across as many agencies as possible, and disseminated it in a manner so as to undermine the incoming president.
These are simply allegations at this point, but a thorough Congressional investigation must be held immediately.
It's remarkable that everything the Democrats have claimed about Trump and the Russians – about how they undermined and interfered in the presidency of the United States – is what Obama himself may have done in this case.
America must know the truth.
Cross-posted at the Mental Recession
For your convenience, you may leave commments below using either the Spot.IM commenting system or the Facebook commenting system. If Spot.IM is not appearing for you, please disable AdBlock to leave a comment.