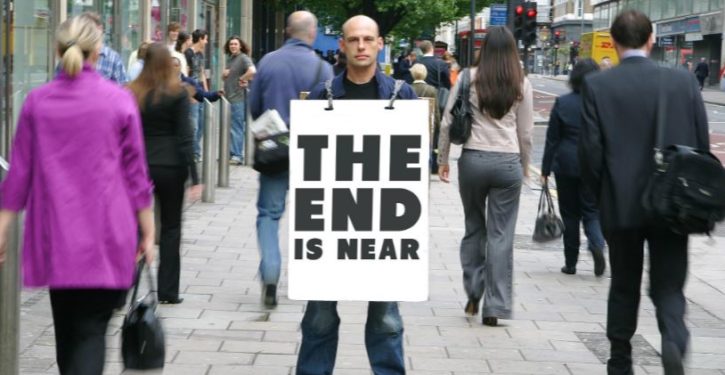 It's not as though they don't have doomsday science on their side. The Science and Security Board of the "Bulletin of the Atomic Scientists," which oversees the 70-year Doomsday Clock, just announced to the world that they have moved the hands 30 seconds closer to midnight. Know why? It's on account of Donald's Trump's itchy trigger finger and refusal to accept the "fact" of global warming.
The board released a statement that reads in part:
Over the course of 2016, the global security landscape darkened as the international community failed to come effectively to grips with humanity's most pressing existential threats, nuclear weapons and climate change.… This already-threatening world situation was the backdrop for a rise in strident nationalism worldwide in 2016, including in a US presidential campaign during which the eventual victor, Donald Trump, made disturbing comments about the use and proliferation of nuclear weapons and expressed disbelief in the overwhelming scientific consensus on climate change….
I'm not sure which "disturbing comments" by Trump the board is referring to, but surely these scientists are aware that the climate has been changing fairly continuously over the history of the geologic time scale.
Anyway, all of this doom and gloom has percolated down into liberal psyches, prompting two members of Congress — Sen. Edward Markey  (D-Mass.) and Rep. Ted Lieu (D-Calif.) — to propose joint legislation that would prevent the president from launching nuclear weapons without first a obtaining a declaration of war via Congress.
According to the Daily Mail, Markey released a statement in which he observed that nuclear war is the "gravest risk to human survival," which shows what he knows. According to "the overwhelming scientific consensus on climate change" cited by the Science and Security Board, climate change is right up there as one of "humanity's most pressing existential threats."
Anyway, Markey expressed concerns about Trump having having his finger on the button, which echoes what both Hillary Clinton and Barack Obama said during the 2016 presidential campaign. She said, "A man you can bait with a tweet is not a man we can trust with nuclear weapons." He said, "Now, if somebody can't handle a Twitter account, they can't handle the nuclear codes."
The article quotes Trump himself, telling ABC News this week that being handed the nuclear codes was a "very sobering moment. It's very, very, very, scary." Yeah, I can certainly see where that kind of chest-beating would frighten the president's opponents.