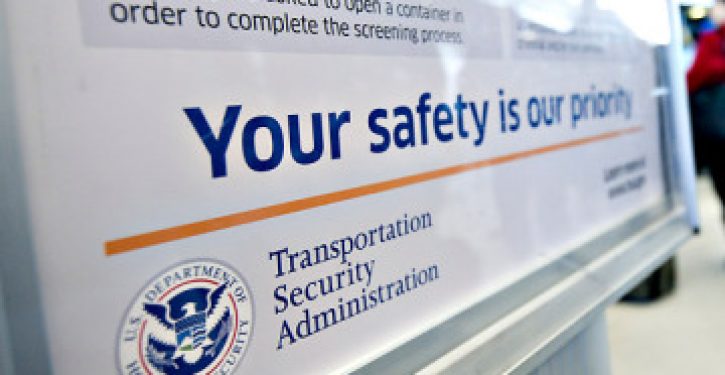 If officers of the Transportation Security Administration are going to continue to "have their way" with female passengers—and it looks like they are—they should at least rent a room. Certainly, they should take the precaution of checking passengers' credentials.
If they had in the case of Karen H. Kaplan, of Washington, D.C., they might have learned that she is a journalist. Fittingly, Kaplan has written up her experience at Norfolk International Airport on Nov. 25. Her first-person account, which appears in Sunday's theday.com, makes several critical claims that the TSA should be called upon to react to.
Kaplan writes that she triggered no alarms but was forced to submit to a patdown because (1) she was wearing a long skirt and (2) Norfolk International has no body-scanning device that could have been used as an alternative. She also notes that the TSA website cites no regulation that calls for an invasive search "simply because a passenger is wearing a skirt."
Kaplan observes moreover that her "search involved highly invasive groping and probing of my private areas" and that it "took five to six minutes," during which time the agent reached into her skirt, "exploring front to back."
There is an obvious problem with the way the TSA is run, but there is another, larger problem, which is implicit in the findings of a poll released last August. The poll, conducted by Gallup, indicated that 54% of Americans think the TSA is doing either an excellent or a good job of handling security screening at airports. Another 41% think TSA screening procedures are extremely or very effective at preventing acts of terrorism.
This poll seems to point to one of two possibilities. One is that the American public has become inured to invasive and inhumane treatment as a necessary evil of air travel. A second is that the TSA's own public relations efforts, sending out "war-not-declared" press releases to media outlets, is working. By encouraging stories about what a bang-up job they're doing keeping Americans safe, they neutralize horror stories like Kaplan's.
Related Articles
Follow me on Twitter or join me at Facebook. You can also reach me at howard.portnoy@gmail.com.