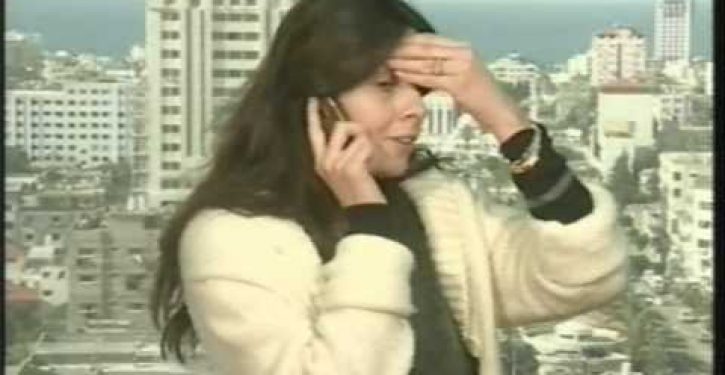 Mainstream media outlets are blaring out the story: "Israel strikes media buildings in Gaza, expanding its range of targets."  (Well, the link worked when I added it.  Apparently the Washington Post has just, in the last 20 minutes, removed this article. [Note: "20 minutes" was two hours ago as of this posting.]  I'm going to leave the link as a memorial.)  The Reuters story is still out there.
At the Daily Beast, it's "Bomb the Press."
Reporters Without Borders condemns the attacks:
Christophe Deloire, the director of Reporters Without Borders' international headquarters in Paris, called the attacks unjustified and a threat to freedom of information. He demanded an investigation into the circumstances of the raid.

"Even though the outlets targeted are linked to Hamas, it does not legitimize the attacks," he said. "Attacks against civilian targets constitute war crimes."
Actually, attacks against civilian targets don't constitute war crimes, when the civilian targets are broadcasting or otherwise disseminating war information on behalf of Hamas. (Scroll to paragraph III.b.)  Israel has all the technical know-how required to be certain that Al-Quds TV and Al-Aqsa TV, for example – media outlets in the buildings struck – has been filling such a role in the last week.  Both are Hamas-controlled "news" affiliates with a history of supporting terror operations (see here and here, for example).  Al-Aqsa TV audio was rebroadcast from Iran during Operation Cast Lead in early 2009, and Al-Quds TV audio is still rebroadcast from Iran today.
Journalists have no expectation of specially protected status during an armed conflict; in reality, it's Hamas that skirts pretty close to the commission of a war crime here.  If the buildings in question housed hospitals, schools, or mosques, Hamas would be guilty of a war crime.  It's a war crime to use protected facilities as shields for armed activity.  It's not a war crime for Israel to attack buildings in which news outlets are acting as agents of Hamas during a shooting war.
The IDF's military spokeswoman, Lt. Col. Avital Leibovitch, put it this way:
Hamas took a civilian building and used it for its own needs. So the journalists … were serving as human shields for Hamas.
Notably, Israel National News (Arutz Sheva) reports that the structure of one of the buildings was not actually hit at all.  The strike on it targeted a communications antenna on the building's roof, and while the antenna was destroyed, the building wasn't harmed.
Time may clarify the validity of that report (although nothing reported from Hamas's supporters is to be taken as evidence).  But it turns out the journalists working out of the buildings in Gaza City already knew that Hamas was launching rockets from positions less than a kilometer (0.6 statute miles) away.
BBC Watch, a website dedicated to the interminable mission of pointing out BBC errors and bias, cites BBC's own journalists tweeting "an almost constant stream of rockets being fired from their vicinity."  BBC Watch also reminds us of 40-odd seconds with an Al-Arabiya reporter in Gaza in January 2009, when she exclaimed on air:
A missile was launched from our place? From here?  It was launched from here.  No, from under our building.

How many?  Was the missile that was launched from our place a "Grad"?
More in this vein was reported with a cheery giggle.
Hamas hasn't changed tactics since 2009.  It's still using all of Gaza as a launching point, headquarters, planning center, and/or weapons storage facility for attacks on Israel.  You go work in the offices of a news organization in Gaza City, and you hear rockets being launched from a few blocks away all day long, you have to know you're in a dangerous spot.  The BBC's bureau chief in Gaza, Paul Danahar, clearly knew that when he tweeted the following a few days ago:
Rocket took off less than half a kilometre from our office in #Gaza. It was huge so we are bracing ourselves for an #Israeli response.
Indeed.  I believe the popular expression is "Du-uh."
Bonus material:  The Israel Project's collection of videos recording how Hamas treats journalists.
J.E. Dyer's articles have appeared at Hot Air, Commentary's "contentions," Patheos, The Daily Caller, The Jewish Press, and The Weekly Standard online.
Her home blog is The Optimistic Conservative.