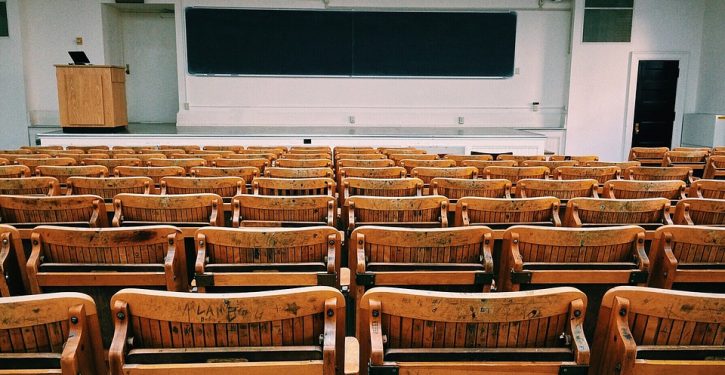 At Michigan State University, a self-described "feminist" professor required her students to buy a $99 membership to her Patriarchy Rebellion website. Since more than 600 students are enrolled in her large, lecture-hall course, this amounts to tens of thousands of dollars per semester. It's not clear whether virtually all the money all went into her own pocket, or whether some of it went into the coffers of Planned Parenthood.
Young America's Foundation posted a screenshot of Professor Amy Wisner's syllabus in its New Guard publication. The screenshot shows bullet points outlining "course requirements," one of which is "The Rebellion Community membership."
"The leftist professor, who has taught in the business school at MSU since 2011, included the $99 membership requirement in the course's syllabus," the New Guard notes.
Professor Wisner appears to be under investigation. Students filed complaints against her a week ago. Shortly afterward, students enrolled in her classes were informed by Richard Spreng, associate dean for undergraduate programs, that Wisner is "temporarily unavailable" and that another professor will temporarily take over her teaching duties.
Dan Olsen, an MSU spokesman, says  the college is currently looking into the matter. "To protect the integrity of that ongoing review, I am unable to share additional information at this time," he said.
Wisner describes herself as an "Intersectional feminist and business communication professor challenging societal norms and guiding students on a self-discovery journey."
The Patriarchy Rebellion website currently claims that "100% of member fees are used for awareness, education, and activism for a bully-free future." This is hard to believe given the low quality and limited content of the web site, and the tens of thousands of dollars that students have paid in membership fees to the web site as a course requirement. It seems obvious that the web site must have made a big profit, after taking into account any modest expenses associated with running a web site.
Moreover, this claim is inconsistent with what Professor Wisner has said in the past. A screenshot of a Facebook post by Professor Wisner from last year states "The Rebellion community is a safe place to coordinate our efforts to burn everything to the fucking ground," adding "100% of membership fees are donated to Planned Parenthood."
YAF's New Guard notes:
Behind the [Patriarchy Rebellion] paywall, she posted PDF files and YouTube videos that promoted her social justice agenda rather than anything remotely relevant to the subject matter of the business course.

Wisner's students weren't afraid to hold back after discovering that the platform was Wisner's own. The New Guard independently reviewed dozens of chat messages between the professor and some of the students she apparently swindled. When one student asked why she couldn't simply use the university-provided learning management system (which students already pay for with tuition dollars) to upload the course's content, she dodged the question, replying "wouldn't that be nice? Tuition is ridiculous, you guys. I honestly think that this is the future of education."

With more than 600 students enrolled in her course this semester alone, Wisner has likely collected tens of thousands of dollars in revenue from her students. She has failed to keep her story straight regarding the way she uses the funds. During one class session, she told students that the revenue is used to bring in guest speakers. A GoFundMe page states that she's using the funds to buy herself a "Rebellion RV."
New Guard says that Young America's Foundation's lawyers are "working with several of Wisner's students to rectify this scandalous situation and secure refunds for all of her students."