A law professor at Emory University — its chief diversity officer — claims that the late Supreme Court Justice Antonin Scalia "was basically a Klansman." Scalia served on the Supreme Court from 1986 to 2016, after being confirmed by the Senate in a bipartisan 98-to-0 vote.
Professor Darren Hutchinson made the remarks while discussing how he is teaching a critical race theory seminar that discusses a 1987 Supreme Court decision about the death penalty. Hutchinson is Emory's "director of community and inclusion."
Hutchinson claimed Justice Scalia promoted the Ku Klux Klan's agenda because he voted with a majority of the Supreme Court in McCleskey v. Kemp (1987), which rejected a racial bias claim in a death penalty case. Scalia was a devout Catholic, which made him a member of a group targeted for violence and exclusion by the KKK in the 1920's.
Scalia is not known to have had any links to the KKK, unlike former Supreme Court Justice Hugo Black, appointed by President Franklin Roosevelt in 1937. Justice Black had once been a member of the KKK before his appointment. Senator Robert Byrd (D-West Virginia), Senate Majority Leader from 1977 to 1981 and 1987 to 1989, was a member of the KKK in the 1940s.
The comment from Hutchinson was highlighted by George Washington University law professor Jonathan Turley, who took issue with it. Hutchinson's Facebook post is reproduced below: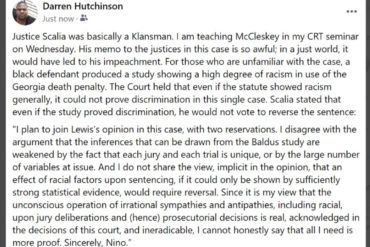 "The case has long generated debate with many law professors disagreeing with the Court's holding. However, one can disagree with the Eleventh Circuit and the Supreme Court without labeling such jurists as white robbed racists," wrote Professor Jonathan Turley.
Turley wrote that Hutchinson's KKK comparison would likely inhibit his students from arguing in support of the Supreme Court's McCleskey decision, thus impairing both a free exchange of ideas and an adequate discussion of the merits of a Supreme Court decision:
It is also concerning that this is a reference to Hutchinson's class. If the professor maintains that anyone supporting the decision is effectively a klansman, it is hard to see how students in his class would feel comfortable in voicing such a view. Indeed, such pedagogical positions may explain why 60 percent of students reportedly fear sharing their views in classes.