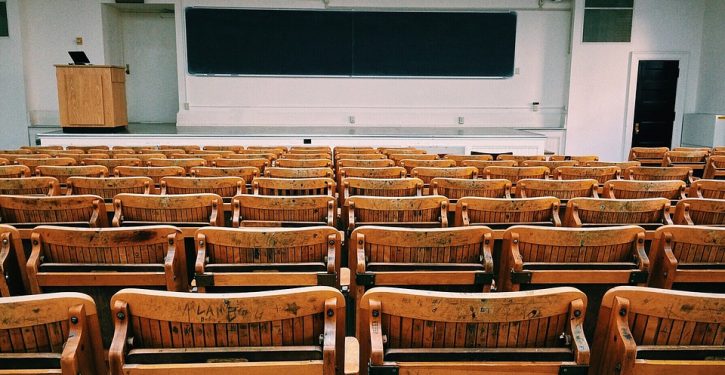 "Eight programs run by the Medical University of South Carolina are now the subject of a federal investigation by Department of Education officials following a complaint by a nonprofit" that they discriminate against men and white people, reports The College Fix.
The Medical University of South Carolina made minor changes to these programs to try to get the investigation dismissed, but the investigation apparently continues, at least for the time being. The University "changed the listed eligibility criteria for some of its diversity scholarships that required recipients to be from groups 'under-represented in medicine" students, following a federal complaint that alleged the program violated civil rights.'"
The investigation was triggered by a a complaint from Do No Harm, a public-interest group fighting reverse discrimination, wokeness, and erosion of quality standards in healthcare.
That resulted in a federal inquiry into eight separate programs at the University, including mentoring initiatives and scholarships. Do No Harm's leader, Dr. Stanley Goldfarb, lamented programs like these that elevate diversity above hard work, experience, and other qualifications:  "The argument that diversity must be achieved to accomplish optimum clinical outcomes for patients is without evidence. Those who argue for the importance of diversity in the medical workforce and in admission to medical school place the interests of students and practitioners, particularly minorities, above the interest of patients."
Goldfarb argues the logic of such programs — which assume that minorities need minority doctors — could lead to a return to segregation: "Do we want black or white patients seeking black or white practitioners? Do Americans want medical apartheid? I think not."
"Those who argue for diversity argue for diversity of skin color, not of world view, not of experience, only of skin color or of a Hispanic heritage," Goldfarb argues. "In a nation of immigrants, the best way to achieve diversity is to stop limiting it to skin color."
After Do No Harm's complaint, gender exclusions were removed from one program. The "Underrepresented in Medicine Visiting Student Program" no longer excludes men, but it still excludes white students. It provides unique mentoring opportunities.
Similarly, a gender-exclusion was removed from a scholarship program. The scholarship's website originally stated that a recipient of funding for the Rose Delores Gibbs, M.D. Endowed Scholarship must be "a current female URM student, preferably one who plans to practice Family Medicine or Internal Medicine."
The Gibbs Scholarship now says "particular attention will be given to applicants who represent a group that is underrepresented in medicine." It remains under federal investigation.
The criteria for the Jenny and Jerry Reves, M.D. Diversity Scholarship was initially described as "promising under-represented in medicine (URM) students." To try to get rid of the investigation against it, that scholarship eliminated its categorical exclusion of URM races, although in practice, recipients will no doubt still have to be of a URM race. The description of the scholarship was changed by the university to state that state that "particular attention will be given to applicants who represent a group that is underrepresented in medicine," citing efforts to increase diversity in healthcare.
The federal appeals court with jurisdiction over South Carolina has ruled that scholarships cannot be limited to blacks, in Podberesky v. Kirwan (1994). But it has not explicitly rule that a scholarship cannot be limited to non-whites, as opposed to whites — the student challenging the blacks-only scholarship in Podberesky v. Kirwan was Hispanic, not a non-Hispanic white. Under the Trump administration, the federal Office for Civil Rights decided that a Kentucky scholarship for non-whites was illegal discrimination in violation of Title VI of the Civil Rights Act.