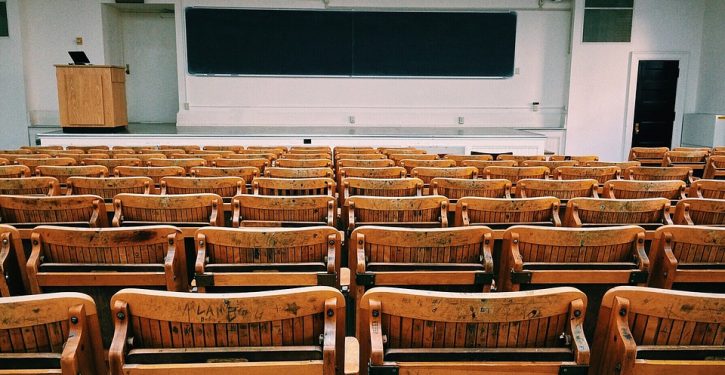 Colleges are left-wing even in red states like Utah, where legislatures have veto-proof Republican majorities. One example is University of Utah. It recently denigrated colorblindness, even though some Supreme Court justices have said have said "Our Constitution is colorblind" and that "racial neutrality is the driving force of the Equal Protection Clause." The University of Utah also denied there are two sexes, even though judges have taken note of the indisputable fact that humans are a sexually dimorphic species comprised of two sexes.
The College Fix reports that University of Utah administrators recently took these positions in an "Inclusive Style Guide" for students, faculty and staff to follow.
The guide was distributed over the summer and includes more than 40 suggestions on how to avoid using terms deemed inappropriate. It is divided into different sections, focused on gender, race, socioeconomics, disabilities and the LGBTQ community.
The guide seeks to make the University of Utah an "anti-racist environment." "In the content that we create, we have a responsibility to use language and images that are respectful to people of all cultures, backgrounds, identities, and experiences."
The University of Utah's media relations team refused to provide any comment to The College Fix.
University of Utah journalism Professor Kim Mangun argues that the guide is a helpful tool: "Such guides are particularly important for journalism students and professional communicators…Making diversity and inclusion central to reporting will certainly help students enter the field of journalism, since they will be able to better represent societies, gain the trust of their audiences, and help diversify their media outlets."
The gender section instructs that students and faculty should "Recognize that there are more than two genders."
"It is also important to understand that while we have been socialized to think of two sexes — 'male' and 'female' —there are many biological variations that do not neatly fall into these categories," the guide claims.
This is like saying that because a few unfortunate people are born without limbs, humans, as a species, do not have limbs.
It promotes 20 different ways in which students and staff can be allies of the transgender community in their work, including:
When discussing instances of oppression that certain groups (often women) face, consider being inclusive of other oppressed groups, such as trans and non-binary people (e.g. "pregnant people" rather than "pregnant women" and "people who menstruate" rather than "women who menstruate").
The race section advises that when "using color to appropriately describe a race," people should "capitalize the words—for example when using Black, White, and Brown."
It also tells people to avoid using the words "color blind" or "don't see color" because it allegedly "dismisses a serious social justice issue—society treats people differently based on their race or ethnicity."