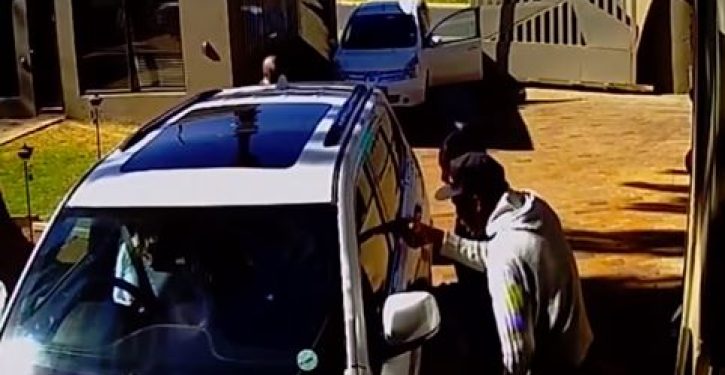 Carjackings have skyrocketed in Washington, DC, and homicide has risen a lot since 2019. What is the response of the government? It is moving to cut penalties for carjacking, gun possession by felons, and burglary — and to make it easier for criminals who have spent more than 20 years in prison for major crimes like murder to get their sentences reduced.
Washington, D.C., reported 426 carjackings in 2021, up from 142 in 2019. This March, a Washington doctor was run over and killed by a carjacker who drove off in his car. Last year, two teenage girls aged 13 and 15 carjacked and killed an Uber Eats Driver in Washington, DC, a crime for which they received only juvenile detention, not prison.
But the DC Government doesn't seem concerned. As the Washington Examiner's Byron York notes, the "Washington DC council voted unanimously to 'lower sentences for burglaries, carjackings, and robberies….reduce penalties for illegal gun possession, including for carrying a pistol without license and for being a felon in possession of a firearm.'"
As Beege Welborn notes at Hot Air, "This is the second vote on these proposed reforms and all that remains is Mayor Muriel Bowers' approval." (Moreover, even if the mayor were to veto it, the Council could override her veto with a two-thirds vote).
The Washington Free Beacon reports:
The Washington, D.C., city council on Tuesday voted to dramatically reform the city's criminal code, reducing penalties for offenses including illegal gun possession and carjacking, even as D.C. has seen a spike in homicides in recent years.

The legislation, which requires the approval of Mayor Muriel Bowser (D.), would eliminate mandatory minimum sentences for most crimes, the Washington Post reported, and lower the maximum sentences for crimes such as carjacking and robbery.

…Tuesday's vote marks the second time this month that the council approved the legislation, which is required for bills in D.C. to advance. This week's deliberation over the bill was contentious, as some council members challenged the bill's provisions that would lower the maximum penalty for carrying a pistol without a license and possession of a gun as a felon to two years in prison.
Carjackings skyrocketed in Washington, DC in 2021, and then rose another 27% in the first eight months of 2022. Homicides increased to 226 killings in 2021 from 166 killings in 2019, and only 88 homicides in 2012. Washington DC reached the "100th homicide mark faster" this year "than any year since 2003," according to police cited by the local CBS station. In 2022, the 100th homicide occurred on June 24.  In 2021, when murders increased by 14%, the 100th homicide did not occur until July 10. Robberies continue to increase.
If DC goes through with reduced sentences for criminals, that will likely increase the crime rate and the homicide rate. Studies indicate that longer periods of incarceration deter many crimes from being committed by people who are not currently incarcerated; they don't merely prevent people who are already inmates from committing more crimes — although they do that, too. For example, a study found that longer sentences deterred people from committing murder, robbery, and rape. (See Daniel Kessler & Steven J. Levitt, Using Sentence Enhancements to Distinguish Between Deterrence and Incapacitation, National Bureau of Economic Research Working Paper #6484 (1998)).
A 2008 Santa Clara University study found that longer sentences for three-time offenders led to "significantly faster rates of decline in robbery, burglary, larceny, and motor vehicle theft," even after controlling for pre-existing crime trends and economic, demographic, and policy factors.
Shorter sentences also make inmates more likely to reoffend and commit more crimes. As Michael Rushford noted in the Washington Post, "an exhaustive, decade-long study released in June by the U.S. Sentencing Commission, tracking more than 32,000 federal offenders released from prison in 2010, found that offenders released after serving more than 10 years were 29 percent less likely to be arrested for a new crime than those who served shorter sentences. Offenders who served more than five years were 18 percent less likely to be arrested for new crimes compared to a matched group serving shorter sentences."
Maryland and Virginia are alike in many ways. But Maryland has shorter sentences for criminals than Virginia. It also has a violent crime rate more than double Virginia's. In 2018, Maryland had a violent crime rate of 468.7 per 100,000 people, according to USA Today, compared to a violent crime rate of only 200 per 100,000 in Virginia.
It is sometimes argued that sentences should be reduced because inmates age out of crime. But criminals released from prison are usually arrested again, especially when they are released at a young age. That is illustrated by a report issued in February by the U.S. Sentencing Commission. It found that over an eight-year period, violent offenders returned to crime at a rate of 63.8 percent. The median time to rearrest was 16 months. Most violent offenders released from prison committed more crimes. Even among those offenders over age 60, 25.1 percent of violent offenders were rearrested.