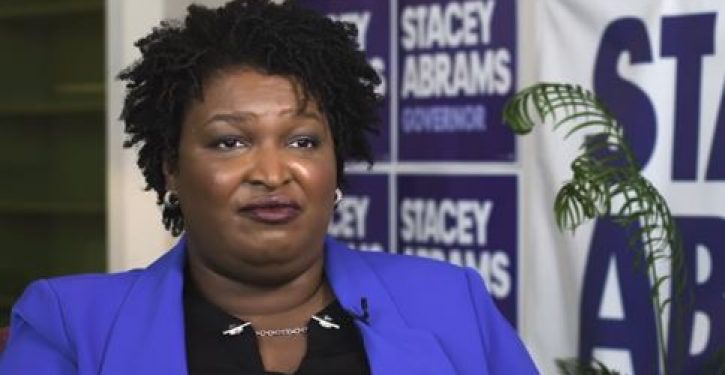 Stacey Abrams claimed she was cheated out of victory in the 2018 Georgia governor election, where Democrat Abrams lost by 55,000 votes. She used claims of election shenanigans to raise tens of millions of dollars from gullible Democrats, much of which was used to pay a crony to bring a voting-rights lawsuit against Georgia. But that lawsuit had no merit at all, and a judge has just ruled that Georgia's voting laws and processes had neither the purpose nor the effect of disadvantaging black voters. Moreover, it is obvious that the election was not administered in a way that cost Abrams the race: The judge observed, "Here, plaintiffs have not provided direct evidence of a voter who was unable to vote, experienced longer wait times, was confused about voter registration status."
As Hot Air notes,
After Stacey Abrams lost the 2018 election for governor in Georgia she set up a new voting rights group called Fair Fight Action. Abrams campaign manager, Lauren Groh-Wargo took over as the CEO of that group which promptly filed a federal lawsuit against the state of Georgia claiming the election had been unfair in various ways. Last month, after years of delay, Fair Fight Action lost that lawsuit on all counts.
Fair Fight Action paid a single small law firm over $9 million to handle that failed case in 2019 and 2020, and unknown additional millions since then. The lawyer in charge of the lawsuit was Stacey Abrams' crony, Allegra Lawrence-Hardy, reports Politico
Allegra Lawrence-Hardy, Abrams' close friend who chaired her gubernatorial campaign both in 2018 and her current bid to unseat Georgia Gov. Brian Kemp, is one of two named partners in Lawrence & Bundy, a small firm of fewer than two dozen attorneys.

The firm received $9.4 million from Abrams' group, Fair Fight Action, in 2019 and 2020, the last years for which federal tax filings are available. Lawrence-Hardy declined to comment on how much her firm has collected from Fair Fight Action in 2021 and 2022 — years in which Fair Fight Action v. Raffensperger, for which Lawrence-Hardy was lead counsel, had most of its courtroom activity.
In short, Stacey Abrams's former campaign manager reaped nearly $61 million in 2019 and 2020 with Abrams spearheading the fundraising. Over 40% of that money (around $25 million) wound up in the pocket of a law firm headed by one of her closest friends.
Lawrence-Hardy was a classmate of Abrams at Spelman College in Georgia in the early 1990s. The pair would also each attend Yale Law School, with Abrams graduating in 1999, three years after Lawrence-Hardy.

"We first became good friends when I was an associate, and she was a summer associate at [the Atlanta-based law firm of] Sutherland, Asbill & Brennan. And we both worked with the same partner," Lawrence-Hardy said. "We became very good friends there."
Such cronyism is a clear conflict of interest, according to experts:
"It is a very clear conflict of interest because with that kind of close link to the litigation and her friend that provides an opportunity where the friend gets particularly enriched from this litigation," said Craig Holman, an expert on campaign finance and ethics at Public Citizen, a non-partisan consumer advocacy organization, offering his opinion after POLITICO briefed Holman on the contents of Fair Fight Action's 990 forms. "The outcome of that litigation can directly affect her campaign itself."…

Kathleen Clark, a professor of legal ethics at Washington University in St. Louis, flagged Fair Fight Action's responsibility to be transparent about how the organization's money is spent.

"Fair Fight Action ought to explain why this lawsuit cost so much," she said. "I think there are significant questions about this choice of firm and just why this lawsuit was so much more expensive. And there may be perfectly valid, innocent explanations to both of those questions. But I don't know what they are."
Abrams raised millions based on the claim that she'd been robbed of victory in the election. But it was not true.
Georgia Governor Brian Kemp did a victory lap:
Today, Stacey Abrams and her organization lost in court – on all counts. From day one, Abrams has used this lawsuit to line her pockets, sow distrust in our democratic institutions, and build her own celebrity. https://t.co/aGlgEQPfSU

— Brian Kemp (@BrianKempGA) September 30, 2022