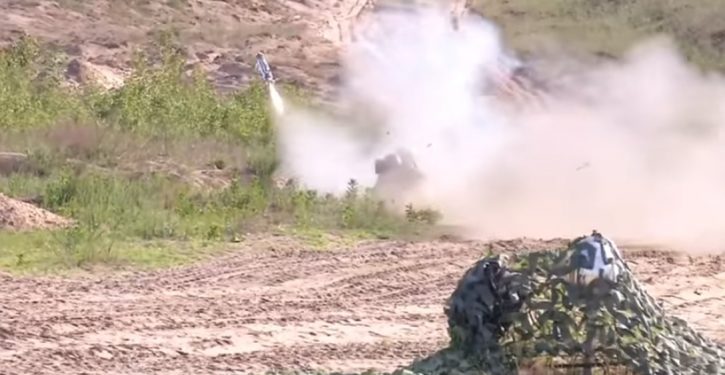 A key ally of Russia President Vladimir Putin says Russia should use nuclear weapons to prevent further Russian losses in Ukraine. Reuters reports:
Ramzan Kadyrov, head of Russia's region of Chechnya, said on Saturday that Moscow should consider using a low-yield nuclear weapon in Ukraine after a major new defeat on the battlefield.

As Russia confirmed the loss of its stronghold of Lyman in eastern Ukraine, Kadyrov slammed top commanders for their failings and wrote on Telegram: "In my personal opinion, more drastic measures should be taken, right up to the declaration of martial law in the border areas and the use of low-yield nuclear weapons".

He was speaking a day after President Vladimir Putin proclaimed the annexation of four Ukrainian regions – including Donetsk, where Lyman is located – and placed them under Russia's nuclear umbrella, saying Moscow would defend the lands it had seized "with all our strength and all our means".

Russia has the world's largest atomic arsenal, including low-yield tactical nuclear weapons that are designed to be deployed against opposing armies.

Other top Putin allies, including former president Dmitry Medvedev, have suggested that Russia may need to resort to nuclear weapons, but Kadyrov's call was the most urgent and explicit.
Meanwhile, Russia has been forced to withdraw from areas of Ukraine that it recent annexed. NPR reports:
After being encircled by Ukrainian forces, Russia pulled troops out Saturday from an eastern Ukrainian city that it had been using as a front-line hub. It was the latest victory for the Ukrainian counteroffensive that has humiliated and angered the Kremlin.

Russia's withdrawal from Lyman complicates its internationally vilified declaration just a day earlier that it had annexed four regions of Ukraine — an area that includes Lyman. Taking the city paves the way for Ukrainian troops to potentially push further into land that Moscow now illegally claims as its own.

The fighting comes at a pivotal moment in Russian President Vladimir Putin's war. Facing Ukrainian gains on the battlefield — which he frames as a U.S.-orchestrated effort to destroy Russia — Putin this week heightened threats of nuclear force and used his most aggressive, anti-Western rhetoric to date.

Russia's Defense Ministry claimed to have inflicted damage on Ukrainian forces in battling to hold Lyman, but said outnumbered Russian troops were withdrawn to more favorable positions. Kyiv's air force said it moved into Lyman, and the Ukrainian president's chief of staff posted photos of a Ukrainian flag being hoisted on the town's outskirts.