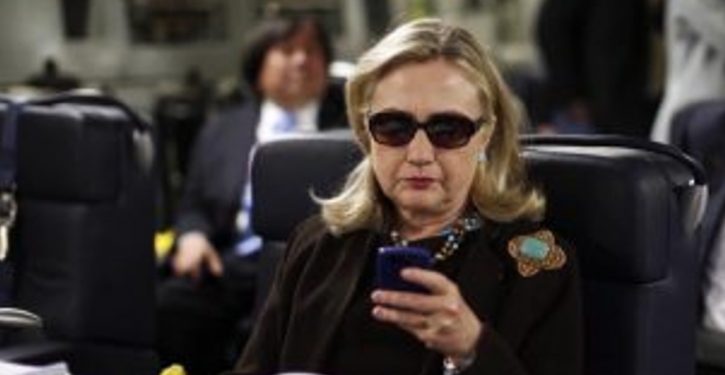 At RealClearInvestigations, reporter Paul Sperry describes a disturbing double standard regarding Hillary Clinton's emails and the FBI raid on Donald Trump's Mar-a-Lago home: Prosecutors declined to pursue obstruction-of-justice charges against Clinton despite finding evidence that, under her team's direction, a computer contractor destroyed and then lied about subpoenaed records she stored on a private server.
As Sperry notes:

The FBI's treatment of the ex-Secretary of State included a deal with her defense team that required the FBI to, in effect, obstruct its own investigation. 

In 2016, the bureau agreed with Clinton lawyers' demands to destroy two laptop hard drives after searching for files on them. They did so even though the lawyers had served under Clinton at the State Department and were subjects of the FBI's investigation.

Clinton lawyers David Kendall and Cheryl Mills consulted with the computer contractor, Paul Combetta, who then deleted the entire email archive from Clinton's server.

According to FBI records, Combetta knew the documents he destroyed were under subpoena. 

In an email, Combetta told a colleague he was part of a "Hilary [sic] coverup operation" and said he would elaborate later at a "party." Asked about it, Combetta claimed he was just joking; the FBI let the matter drop.

The leniency for Clinton and company contrasts with recent moves by Biden prosecutors to aggressively investigate former President Trump and his lawyers for alleged obstruction.

With Clinton, probers sought evidence by consent whenever possible. With Trump, a grand jury issued subpoenas, and agents confiscated some 1,800 personal items, including clothing, passports and medical and tax records.
More at this link.