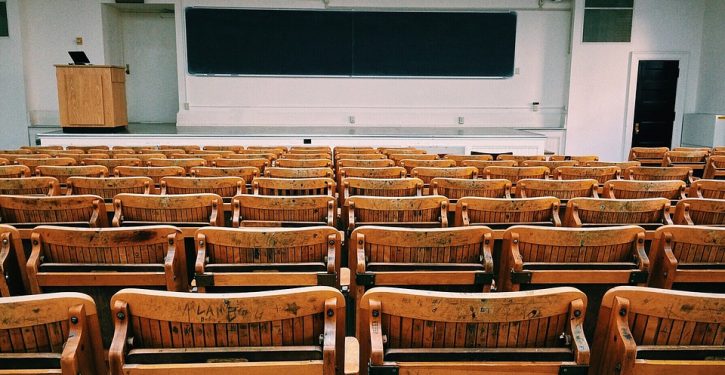 Can a university issue a "no-contact" order against you for expressing an unwelcome viewpoint? Under the First Amendment, the answer is "no." But a growing number of colleges seem to think the answer is "yes," if they label the viewpoint as potentially discriminatory (like opposition to same-sex marriage).
For example, three Christian law students are suing officials from the University of Idaho. The students say the university punished them with "no contact" orders because of their religious viewpoint about same-sex marriage. Viewpoint discrimination on campus is forbidden by Supreme Court rulings like Rosenberger v. University of Virginia (1995). Federal appeals courts have said colleges can't use antidiscrimination and harassment rules to ban religious viewpoints such as opposition to abortion, in cases like Speech First v. Cartwright (2022).

Lawyer Casey Mattox describes what happened to the Christian law students: "1. Students are praying. 2. Another student approaches & asks what they believe about marriage. 3. They give an orthodox answer. 4. The student complains and U. Idaho issues 'no contact' orders to the praying students limiting their speech."
Here is CBS 2's version of the events:
Three Christian students have filed a lawsuit against the University of Idaho after they say officials violated their First Amendment right to free speech.

The students, Peter Perlot, Mark Miller and Ryan Alexander, are members of the Christian Legal Society. The lawsuit claims students attended a "moment of community" on campus to condemn an LGBTQ+ slur written on a classroom whiteboard. One of the three students reportedly spoke with another student about why the Christian Legal Society only affirms marriage between a man and a woman, while a second left a note offering to share perspectives on it.

Shortly afterward, at an American Bar Association panel, several students including the one who approached CLS members publicly condemned the CLS, the lawsuit says, and the third member of the society reportedly countered the claims being made and argued that Christians were receiving discrimination on campus.

University officials issued a no-contact order against all three students afterward on behalf of the student who condemned CLS, citing anti-discrimination rules. The lawsuit claims the three students were not notified of any complaints against them and that the three students' actions were not discriminatory.

"The university has applied these policies to the students because of their protected speech, not any conduct," the lawsuit claims. "The university has also applied these policies to the students because the university deemed the content of their speech controversial and because their viewpoints are disfavored or unpopular."
Such no-contact orders have resulted in First Amendment violations at other universities as well. A Southern Illinois University campus has rescinded its no-contact orders against a conservative student who had shared a world view deemed "unwelcome" by other students, reports Campus Reform:
After a Feb. 23 letter from Alliance Defending Freedom (ADF) attorneys threatened legal action, Southern Illinois University Edwardsville (SIUE) recently dropped its "no contact" orders against a graduate student who had shared her religious and political views.

Campus Reform reported on the university's issuance of three "no contact orders" against SIUE art therapy graduate student Maggie DeJong after several of her classmates characterized her speech as "harassment" and "microaggressions."

ADF media relations specialist Ellie Wittman told Campus Reform that one of the reasons DeJong was issued these orders was because of a statement she made during a text exchange between DeJong and a fellow student.

"My personal held beliefs are grounded in objective truth by the gospel of Jesus Christ," DeJong had reportedly said.

An art project titled the "Crushing Weight of Microaggressions" hanging at SIUE included DeJong's exact quote from the text conversation.
Earlier, the Daily Caller reported:
The letter states that DeJong's "No Contact Order" "is not an indication of responsibility for a violation of University policy," rather it was created to prevent "perceived" actions that are "unwelcome."

DeJong told the Daily Caller that she could not think of a singular event that could lead to this escalation. The master's student said she believes her "worldview is a minority of thought" on the school's campus and said a student used her words for an art project on "microaggressions."

One of the students named in the "No Contact Order" direct messaged DeJong on Instagram the previous semester questioning her Christian faith.

"My personal held beliefs are grounded in objective truth by the Gospel of Jesus Christ," DeJong said in response to her classmate.

The same student then created an art project titled, "Crushing Weight of Microaggressions," which included the exact sentence that DeJong had messaged her classmate the previous semester. The project was released after the "No Contact Order" was put in place.
The University of Idaho lawsuit claims the three students were not notified of any complaints against them before the no-contact order. In addition to violating the First Amendment, imposing a no-contact order without any prior notice could also violate constitutional due-process protections, if it impacts the ability to get an education. In Tyree v. Evans, the D.C. Court of Appeals ruled that due-process rights entitled a man to not only to the opportunity to defend himself against domestic violence charges before a year-long no-contact order could be granted to his accuser, but also the ability to cross-examine her, before the court could impose the order against him.