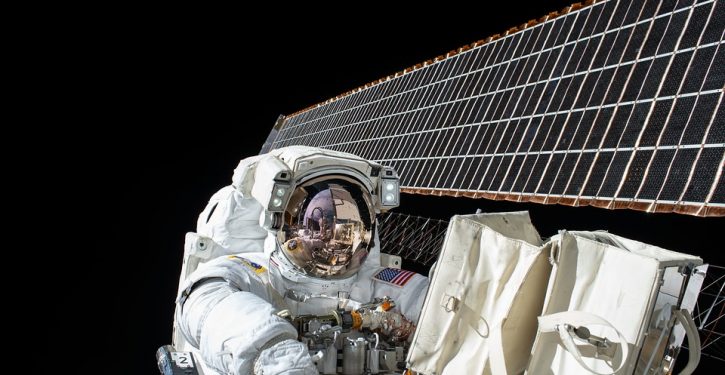 More than half of NASA's budget could be saved if it sent robots on space missions, not humans. Economist Chris Edwards says NASA would function better, and save billions of dollars, by getting rid of human missions.
Discussing the book, "The End of Astronauts: Why Robots Are the Future of Exploration," the Wall Street Journal notes that "in almost all cases, space exploration is too important to leave to fallible, vulnerable human beings" because "almost anything humans can do, robots can do faster, cheaper and—increasingly—better."
Edwards notes that "The cost differences are huge… the Perseverance rover that landed on Mars in 2021 is currently roaming around, seeking life, drilling rock samples, and collecting useful data. The mission cost $2.75 billion. But a 'human base on Mars would require life support, shielding from solar and cosmic radiation, and more. According to one estimate, just getting astronauts into orbit around Mars would cost more than $100 billion," according to the Journal.
As Edwards observes, "NASA could pursue dozens of robotic missions for the cost of a single human mission." This would save billions of dollars out of "NASA's $23.4 billion budget for 2022," of which "44 percent" is directly for "human missions," and billions more "provide support for" human missions.
NASA itself may eventually become obsolete, due to private space flight alternatives: "wealthy entrepreneurs have made great advances recently with private space efforts. Elon Musk, Jeff Bezos, Richard Branson, and others have grand plans for space tourism and other private space projects….private investors pumped $15 billion into space‐​related startups in 2021…The private sector has shown that it can do space flights far cheaper than NASA. NASA's cost overruns are infamous. The cost of building the International Space Station ballooned from $17 billion to $74 billion."