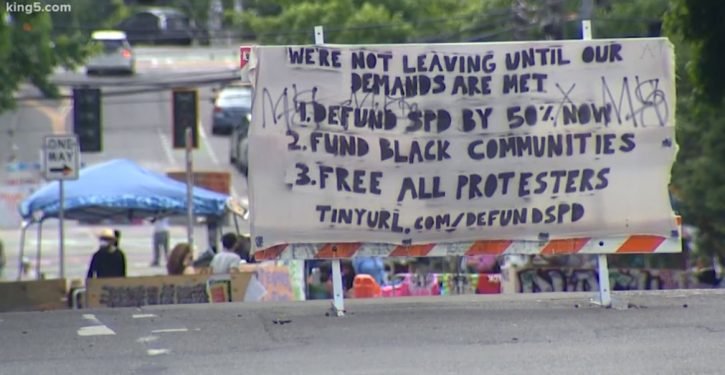 Seattle is now solving less than 1% of all sexual assaults, because it lacks the police manpower to investigate cases where the police have not already arrested someone. And even when it investigates, it usually doesn't manage to arrest the perpetrator. As the Daily Mail notes, "This year so far, only 1.6 percent of cases investigated by the sexual assault and child abuse unit have resulted in an arrest, down from 14 percent in 2019."
The New York Post reports on this in the news story, "Seattle does not have enough cops to investigate adult sex assaults after 'defund the police.":
Nearly two years after Seattle led the way in defunding the police, the Washington city's force is so understaffed, it did not assign a detective to investigate a single case of a sex assault on an adult last month, according to a report. The depleted department now only has four detectives in the squad handling sex assaults, nearly all dedicated to child abuse cases, local NPR station KUOW revealed.

Not a single sexual assault case involving an adult was given to a detective throughout the whole of last month, aside from any that already had arrests, the outlet said, citing documentation from a whistleblower. "The Seattle Police Department sexual assault unit is not at all investigating adult sexual assault reports or cases unless there was an arrest," one police department source told the station. The lack of manpower even means people reporting sex assaults are sometimes routed to an automated telephone hotline designed to handle non-urgent crimes such as stolen checks, the report said.

Seattle's council in 2020 voted to slash the police budget and cut officers' jobs as the city saw some of the most troubling Black Lives Matter protests in the US, including a deadly cop-free "autonomous zone." The 1,281 deployable officers the force had at the end of 2019 were slashed to just 958 at the end of last year, after the cuts, KUOW said.