Gasoline could soon be over $4 per gallon in the U.S., on average. In places like California, it's already over $4.75 per gallon.
Reason magazine reports that Russia's invasion of neighboring Ukraine is driving up prices for many commodities, especially oil and natural gas. Russia generates slightly over 10 percent of world oil production, exporting over 5 million barrels daily. European nations import about 2 million barrels of that per day (primarily via tankers), and Russian natural gas accounts for two-fifths of European natural gas usage. Most Russian natural gas and a significant fraction of its petroleum exports are sent through pipelines passing through Ukraine, as this map shows: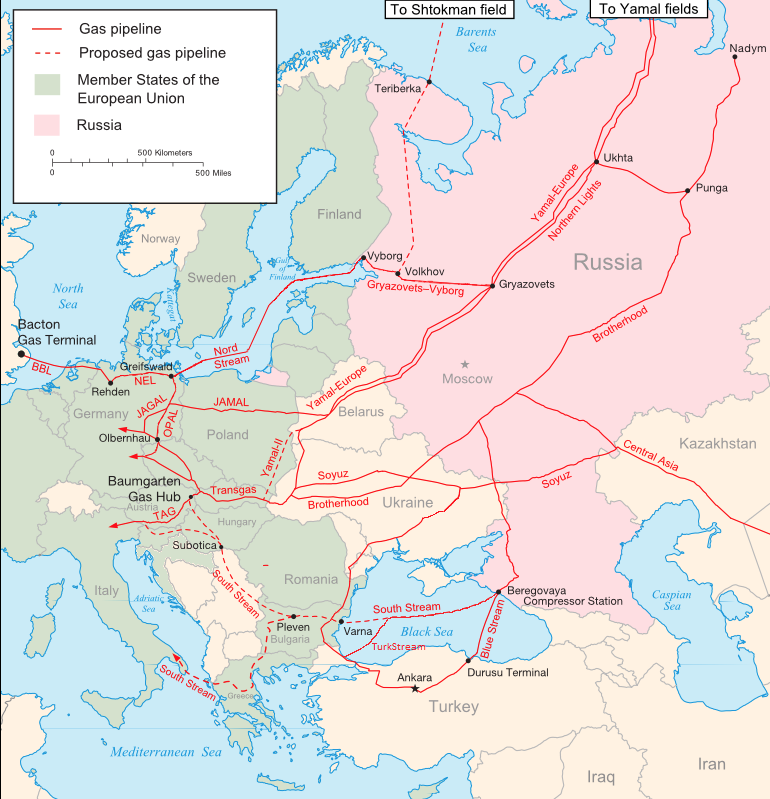 As Reason notes,
Fighting could well damage those pipelines and/or distract their operators. Consequently, oil and gas prices have jumped in response to Putin's war, increasing from around $69 per barrel in December to nearly $100 now. In the wake of the invasion, European natural gas prices spiked by 62 percent, rising to about 10-times the U.S. average price.

The global oil industry has been whipsawed by the COVID-19 pandemic, which cut global demand by one-third in 2020 followed by the steeper-than-expected recovery of demand as the world (hopefully) exits the pandemic. In April 2020, oil prices dipped briefly below $20 per barrel but had risen to their pre-pandemic levels by the end of last year.

Commentators note that at $100 per barrel oil prices are now near the highs they reached in 2014. Why did prices rise that high seven years ago? At least in part because Putin launched proxy wars in the eastern Ukrainian provinces of Donetsk and Luhansk in early 2014 and stealthily invaded and annexed Ukraine's Crimean peninsula.