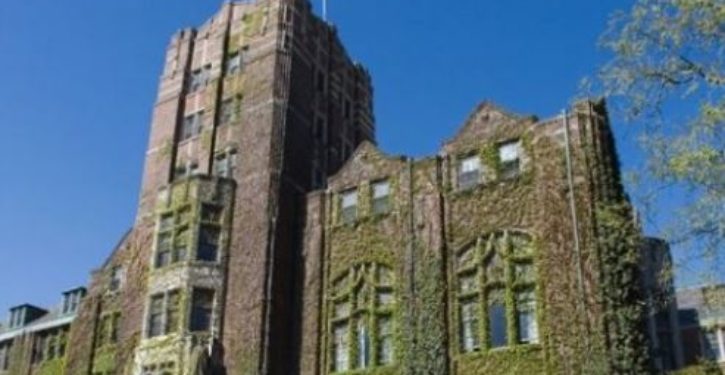 "Carleton College in Minnesota will no longer host mandatory racially-segregated 'anti-racist training' after a federal complaint," reports The College Fix. But racially-mixed audiences will continue to be subjected to most of the same left-wing indoctrination.
The "anti-racist" training requirement originated in a list of demands by black activists for "mandatory anti-racist training for all incoming and current faculty, staff, administrators, and students." The Ujamaa Collective demanded that the college's administrators "contract independent Black anti-racist trainers to underscore the importance of racial, religious, gender, and sexual diversity."
University of Michigan economist Mark Perry received a letter on February 3 from the Education Department, after he filed a complaint against Carleton College alleging illegal racial segregation.
The letter said in part:
Trending: Great Replacement Theory is fueled by woke progressives gloating about America becoming non-white

You stated that the College held mandatory segregated monthly affinity groups for staff and faculty between January and May 2021 in violation of Title VI. During its evaluation, OCR learned from the College in October 2021 that it ended the antiracism training series for staff and employees, including affinity groups. The College informed OCR that it terminated the antiracism training program in May 2021 and it has no plans to continue the training or the affinity group discussion format in the future. Based on this information, OCR is dismissing the complaint as of the date of this letter.
Professor Perry filed a complaint against Carleton College with the Education Department's Office for Civil Rights last April:

Professor Perry wrote in that complaint that Carleton College "is legally required to enforce Title VI's prohibition of discrimination on the basis of race and skin color as a condition of receiving federal financial (taxpayer) assistance….And yet the College is mandating monthly anti-racism training sessions for all of its employees, with mandatory monthly affinity group sessions that are illegally segregated and separated by skin color and race in violation of Title VI."
Perry continued, "Those mandatory segregated monthly affinity groups discriminate on the basis of race and skin color in violation of Title VI because those sessions treat individuals differently on the basis of skin color and race, and they subject individuals to segregation and separate treatment based on their skin color and race."
Perry says other members of the public should likewise file complaints with OCR when they see programs that are racially discriminatory.
"If faculty and staff at colleges and universities are required to engage in any illegal, racially segregated programs, they should file an internal Title VI complaint with the university's Title IX Office and the Office of General Counsel, in addition to filing an external Title VI complaint with the Office for Civil Rights," Perry noted.
People who learn of discrimination and wish to retain their anonymity can contact him, in which case he may be able to use the information they provide him with to file a complaint in his own name, Professor Perry said.