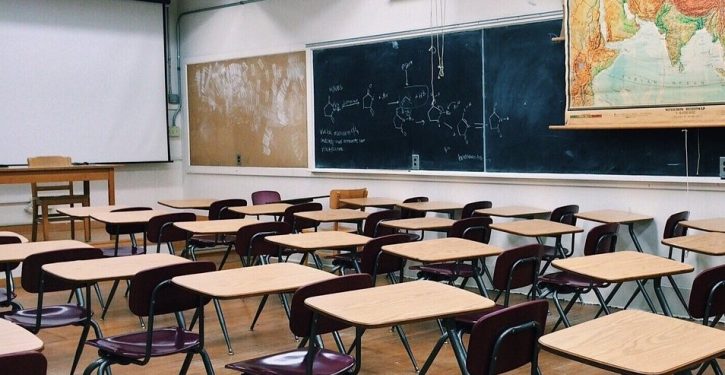 The temperature in Boston was four degrees this morning. Freezing temperatures are common in Massachusetts this time of year. But as Jazz Shaw notes, "Students in Boston's public schools had better cross their fingers and hope that it warms up significantly before they return to class on Tuesday, or they're going to be in for a very uncomfortable day of learning…The reason is that all of the public schools in Boston are required by a school board mandate to leave the windows in the classrooms cracked open. In January." The National Review reports:
Parents have been forced to send their children to school dressed in multiple layers of winter clothing because of a Boston Public Schools mandate that windows be kept open 4 inches to mitigate the spread of Covid.

"Good morning families," one school wrote in a letter to parents first reported by the Boston Herald. "It is still very cold. Remember the windows in our classrooms have to be open. I suggest layering your child's clothes (2 pairs of pants, 2 shirts and a sweater, 2 pairs of socks, etc. (Plus all their outerwear (hat, glove, scarf, etc.)."

The policy has triggered outrage from some parents, who see the abundance of Covid caution to the point that kids are freezing in class as a hindrance to learning.
As Shaw notes, "Calling this a 'hindrance to learning' is putting it mildly. How is anyone supposed to concentrate and focus on the course material when they are shivering? Are student expected to operate laptops and other digital learning devices while wearing mittens?"
The Boston Public Schools have responded to parental outrage by saying they will turn up classroom thermostats to 76 degrees, further increasing heating costs at a time when energy prices are skyrocketing. But they are not wavering on the window mandate.
As Shaw notes,
Someone needs to get in front of the school boards and ask the obvious question. All of these schools had new air filtration systems installed during the shutdown period, a highly expensive process undertaken at taxpayer expense. Why on earth would you need to leave the windows open after implementing those upgrades? It just seems as if they are increasing the chances of having some COVID float in through the windows from someone walking by outside.

It's not just Boston where this sort of pandemic panic-driven madness is showing up. Schools around the country are imposing all manner of rules, largely without the benefit of appropriate professionals providing guidance. It was enough for even David Leonhardt of the New York Times to declare that COVID school restrictions "are destroying our children."