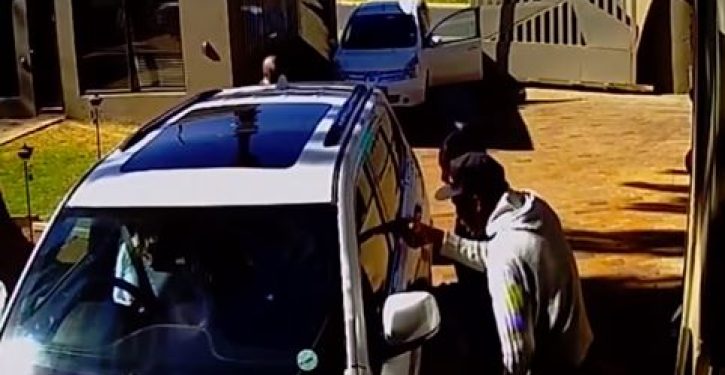 Democratic Congresswoman Mary Gay Scanlon was carjacked in broad daylight in Philadelphia's FDR Park on Wednesday.  The brazen attack came after progressive Philadelphia District Attorney Larry Krasner claimed there is no "crisis of lawlessness" in Philadelphia, despite robberies skyrocketing by 27 per cent since 2020 and murders setting an all-time record this year.
Congresswoman Scanlon had her car, purse, wallet and phone stolen but was not injured, reports the Daily Mail. Scanlon was walking to her parked car and was approached by two men driving a dark SUV. They demanded her keys and then fled in her 2017 Acura.
The crime comes after an Illinois state senator and her husband were also carjacked on Tuesday night in a Chicago suburb.
Philadelphia, a city of 1.5 million, has had more murders this year (521 as of Dec. 6) than the nation's two biggest cities, New York (443 as of Dec. 5) and Los Angeles (352 as of Nov. 27). That's a jump of 13% from 2020, itself the most murderous year since 1990.
"It's terrible to every morning get up and have to go look at the numbers and then look at the news and see the stories. It's just crazy. It's just crazy and this needs to stop," lamented Philadelphia Mayor Jim Kenney after his city exceeded its annual murder record of 500.
ABC News reported in early December that at least 12 big cities had broken their annual murder records in 2021 — even though there was still a month to go in the year. Of those cities, at least five topped records that were set just last year.
Chicago, the nation's third-biggest city, led the country with 739 murders as of the end of November, up 3% from 2020.
Philadelphia's murder record was broken in the same week that Indianapolis, Columbus, and Louisville exceeded their records for murders.
People like White House Press Secretary Jen Psaki have sought to defuse a public backlash against soft-on-crime officials in murder-plagued Democratic-run cities by claiming that rising violence is due to the pandemic, not soft-on-crime policies.
In reality, the pandemic wasn't the reason. The murder rate fell in the nations hardest hit by the pandemic, such as Peru, which had a COVID-19 death rate over twice as high as America's. Peru has the world's highest death rate from COVID-19: about 6,000 per million people, compared to about 2,400 per million people in the U.S. Other countries with bigger jumps in mortality during the pandemic — such as Mexico, whose unofficial death rate was almost twice America's — also had falling murder rates.
COVID-19 caused widespread hunger in Latin America, unlike the United States. Yet murder rates fell in 2020 in Guatemala, Honduras, Venezuela, and El Salvador — all countries where malnutrition is widespread. Each of these countries suffered from a shrinking economy during the pandemic: Venezuela's economy shrank 10%, El Salvador's 9%, and Honduras's 6.6%. By contrast, the U.S. economy shrank only 3.5% in 2020.
By contrast, murders skyrocketed in the United States, where many prosecutors and judges have become softer on crime. The New York Times reported that "murder rose by almost 30% in 2020," and is still "rising." That was "the biggest rise in murder since the start of national record-keeping in 1960, according to data gathered by the F.B.I."
Recently-elected progressive prosecutors such as George Gascón have vowed not to use "sentencing enhancements," for things such as "past felony convictions." Gascón also stopped charging juveniles as adults, meaning that 17-year-old serial killers won't be held beyond age 25.
Sentencing enhancements deter violent crimes and theft. Crime in California fell significantly after California voters adopted Proposition 8, which mandated longer sentences for repeat offenders who kill, rape, and rob others. A National Bureau of Economic Research study found those longer sentences deterred many crimes from being committed. As it observed, three years after Proposition 8 was adopted, crimes punished with enhanced sentences had "fallen roughly 20-40 percent compared to" crimes not covered by enhanced sentences.
Prison sentences for murder are effectively shrinking, as more murderers have become eligible for parole due to recent changes in state laws, and rulings by progressive judges. In 2020, Washington, DC's city government passed legislation that would allow previously-convicted murderers to seek release after 15 years, if they committed their crime before age 25. In 2018, Washington State's supreme court declared it unconstitutional to give 16 or 17 year old murderers life sentences without the possibility of parole, regardless of how many people they kill. In a 5-to-4 vote, it ruled in favor of a man who had murdered his parents and then drowned his brother in a bathtub.