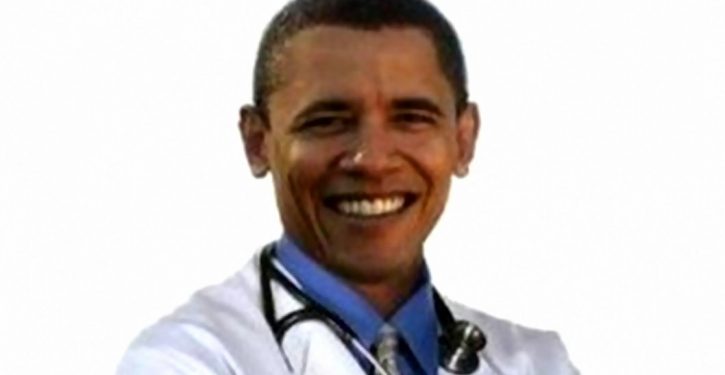 Many racial differences in health outcomes have nothing to do with racism. For example, Hispanics live three years longer than whites, on average, but that does not mean doctors are giving Hispanics special treatment at the expense of whites.
But the Biden administration is now giving doctors a financial incentive to blame "differences in health outcomes" on "systemic racism" against minorities, and to adopt "value statements" that treat race as a "political" rather than "physiological" reality, even though some health conditions (like sickle-cell anemia and Tay-Sachs disease) have physiological causes linked to people's racial background.
The Washington Free Beacon reports that the Biden administration will offer bonuses to doctors who "create and implement an anti-racism plan" under new rules from the Department of Health and Human Services, that revise Medicare payments:
Effective Jan. 1, Medicare doctors can boost their reimbursement rates by conducting "a clinic-wide review" of their practice's "commitment to anti-racism." The plan should cover "value statements" and "clinical practice guidelines," according to HHS, and define race as "a political and social construct, not a physiological one"—a dichotomy many doctors say will discourage genetic testing and worsen racial health disparities.

The "rationale" for the bonus, the new rules read, is that "it is important to acknowledge systemic racism as a root cause for differences in health outcomes between socially-defined racial groups."

Such premises have found a receptive ear in the Oval Office, which has taken steps to institutionalize them throughout the federal bureaucracy. Hours after his inauguration, President Joe Biden signed an executive order launching a "whole-of-government equity agenda," one plank of which was the "equitable delivery of government benefits."

The new bonus scheme, HHS stresses, is "consistent with" this order. It follows a series of steps by the Biden administration to integrate "anti-racism" into government policy: in November, for example, the Department of Homeland Security listed "diversity, equity, and inclusion" as one of its top two priorities, ahead of "cybersecurity."
Ironically, this politicization of Medicare reimbursement is part of an update to Medicare's "Merit-Based Incentive Payment System," a scoring system that sets eligible doctors' reimbursement rates. Congress created that system in 2015 to reward clinicians for high-quality, cost-effective medical care—and to discourage them from providing unnecessary services.
Doctors had been billing Medicare for services "regardless of how necessary they were," said Chris Pope, a Manhattan Institute scholar who worked on this legislation years earlier while on Capitol Hill. Depicted as a way of controlling costs, the Merit-Based Incentives passed with broad bipartisan support.
"Republicans who voted for [the scoring system] weren't voting for this," Pope says. "The idea that this would be used as a tool of racial policy never came up."
But the scoring system does reward "improvement activities" that promote "health equity." That may have given HHS an opening to inject this woke ideology into doctors' compensation. The new regulations add "anti-racism" plans to the list of such activities, which fall into "medium" and "high-weighted" categories. "Anti-racism" plans are "high-weighted," giving doctors an extra incentive to adopt them. Under the scoring system, the biggest possible bonus is 1.79 percent of a physician's Medicare reimbursements.
The Biden administration is essentially applying critical race theory to medicine, by treating racial disparities as having political causes — namely, being due to racism.  The more extreme brands of critical race theory argue that all racial disparities are due to racism.
Ibram Kendi is the best known contemporary critical race theorist. His book, "How to Be An Antiracist," is a "comprehensive introduction to critical race theory," gushes the leading progressive media organ Slate. Kendi states that "When I see racial disparities, I see racism." But it is wrong to equate disparities with racism. Racial disparities are often not due to racism at all. For example, Asians typically make more money than whites. Tay-Sachs disease disproportionately afflicts Jews, even though doctors seldom discriminate against Jews (indeed, many doctors are themselves Jews). Racial disparities exist everywhere, often for reasons unrelated to racism, as the black economist Thomas Sowell explains in his book Discrimination and Disparities.
Most judges reject Kendi's idea that racial disparities automatically prove discrimination. For example, a federal appeals court ruled in 2001 that a racial "disparity" in school-discipline rates does not "constitute discrimination," because different groups of students can misbehave at different rates.
But Kendi and other critical race theorist view all racial disparities as vestiges of discrimination to be remedied through racial preferences. The "key concept" in Ibram Kendi's book "How to Be An Antiracist" is that discrimination against whites is the only way to achieve equality: "The only remedy to past discrimination is present discrimination. The only remedy to present discrimination is future discrimination," writes Kendi in that book.