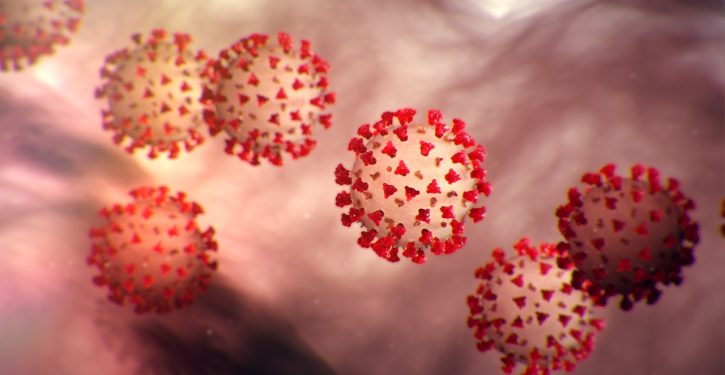 Obese people have higher death rates from the coronavirus, and higher rates of severe illness and complications. That may be because fat cells are literally "targets" of the coronavirus. As Glenn Greenwald notes, "A study by primarily Stanford researches examines why obesity produces such bad COVID outcomes. It finds that COVID can infect fat cells, which means it not only causes severe illness but also *long COVID*." As the study explains, fat cells are "targets of SARS-CoV-2 infection," and support "pathogenic inflammation," which "may explain the link between obesity and severe COVID-19."
Yet, during the pandemic, government officials fostered obesity, by closing schools, gyms, parks, and other places where people could exercise and lose weight. U.S. News reports on the big increase in obesity in America:
The COVID-19 pandemic has exacerbated the nation's obesity epidemic, according to a new report. In 2020, 16 states had adult obesity rates at or above 35%, up from 12 states the previous year….Since the pandemic began, 42% of adults in the U.S. reported gaining an undesired amount of weight, according to a Harris Poll conducted in February 2021. U.S. adults reported gaining an average of 29 pounds….Mississippi had the highest rate of adult obesity in 2020, at 39.7%, according to the report, which uses data from the CDC's Behavioral Risk Factor Surveillance System. It was followed by West Virginia (39.1%) and Alabama (39.0%). Four states – Delaware, Iowa, Ohio and Texas – joined the list of those with an adult obesity rate of 35% or higher in 2020.
Government lockdowns spawned obesity through things like "canceled soccer practices" and "shuttered dance rehearsals," noted CNN.
Many children became fatter when schools closed to in-person learning during the coronavirus pandemic. Childhood obesity rose at the fastest annual rate ever. "Overweight or obesity increased among 5- through 11-year-olds from 36.2% to 45.7% during the pandemic," reported the Journal of the American Medical Association.
Skyrocketing obesity made suffering from the coronavirus worse. "The evidence linking obesity to adverse COVID-19 outcomes is 'overwhelmingly clear,'" say medical experts. Most people hospitalized for the coronavirus were obese.
Supporters of school closings claimed they were needed to protect people's health. But by driving up obesity rates, school closings harmed kids' health. Shutting schools actually increased coronavirus deaths, according to researchers at the University of Edinburgh. The Centers for Disease Control pointed out that there's "little evidence that schools have contributed meaningfully to community transmission."
Schools remained open in most European countries such as France. But in America, teachers unions successfully pushed to keep schools closed, resulting in enormous learning loss. Kids learned less when learning from home than they did when schools were open — especially black and Hispanic students, whose pass rates collapsed in states such as Virginia.
Politics, not students' well-being, was behind school closures. Decisions about whether to close schools were driven mainly by teachers "union influence and politics, not safety," reported Reason Magazine. Teachers unions repeatedly blocked school reopenings. Some used "sick-outs" to shut down schools or force school boards to delay school openings.
"Schools do not, in fact, appear to be major spreaders of COVID-19," said Professor Emily Oster of Brown University. While a few students and staff have caught the coronavirus, that doesn't show schools spread the virus: "Even if there were no spread in schools, we'd see some cases," "because students and teachers can contract the disease off campus."