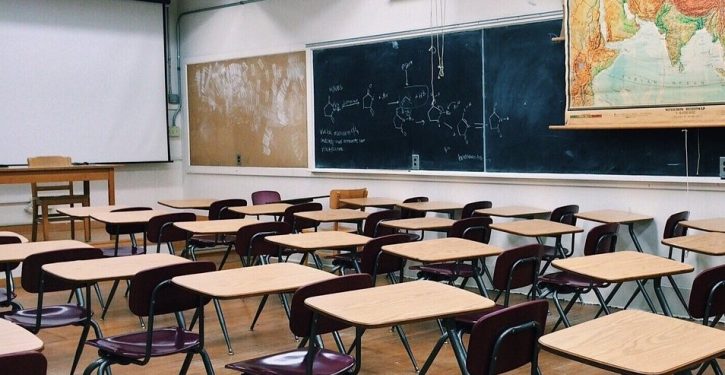 You can't escape the left-wing ideology and mind control found in many public schools by moving your kid to an elite private school. Thanks to left-wing administrators and accreditors, those schools are often even more ideologically narrow-minded and "woke" than the public schools.
"Students at one of the oldest and most prestigious boys schools in the United States could soon face expulsion for a single 'misplaced' joke, according to a draft 'anti-bias' policy obtained by the Washington Free Beacon," notes Aaron Sibarium. The policy is at highbrow St. Albans School in northwest Washington, D.C. Its alumni include many state legislators, two sitting U.S. senators, and past vice presidents and members of Congress.

St. Albans now appears to be implementing a crackdown on so-called "harmful" speech that focuses on the purported impact of speech rather than the intent of the speaker. "It is the impact of hate speech, rather than the intent of those perpetrating it, that is of utmost importance," the draft policy says. Thus, students could be expelled "even in the case of a single expression, act, or gesture"—such as "misplaced humor," which the policy states "should be reported immediately to the student's adviser."
All members of the school community would have to report suspected violations. "We also expect that anyone, whether student, faculty, staff, or family member, who witnesses, or has knowledge of an incident of hate speech, will report the incident to the appropriate individual."….
"It's unclear whether the policy has formally gone into effect or is still subject to revision," says the Free Beacon."But the language appears to have been more than a year in the making. In July 2020, the school publicly committed to 'developing a new policy for inclusion' that "specifically addresses racial hate speech" and outlines a process for 'investigating and eradicating such behavior.'"
Speech codes are increasingly in vogue at elite schools like St. Albans, where an ever-growing continent of diversity professionals has promoted an ever-widening definition of "hate." As the Free Beacon notes, "That definition is enforced by bias reporting systems—often created in response to diversity audits—that encourage students to flag insensitive speech for school administrators. At St. Mark's School in Massachusetts, for example, students can report their peers anonymously via an online form, set up in 2020 as part of the school's 'antiracist action plan.'"
"Now, even the most old-fashioned of these schools are becoming fluent in the language of left-wing identity politics," notes the Free Beacon. St. Albans has become so woke and politically correct that it refers to Hispanic students as "Latinx." It has abolished Columbus Day and replaced it with "Indigenous People's Day." It promotes an "Alliance of White Antiracists." Its tuition is over $50,000 a year.
All this, at a school that is often seen as more traditional and conservative than many of its sister elite schools. Boys must wear formal attire and attend weekly Anglican chapels, whose liturgy one alum described as "traditional." Meals are served in a century-old dining hall called "the Refectory."
But "such trappings have proven no match for the ideological tsunami pummeling private education," notes the Free Beacon. "St. Albans used to have a simple honor code: Don't lie, cheat, or steal," said an alumnus. "Everything else was adjudicated human-to-human. Now boys are being policed for humor and innocuous comments are subject to the highest form of punishment."
That punishment will be imposed by the school's diversity, equity, and inclusion (DEI) committee, which comprises 21 administrators and teachers. "The committee has injected 'antiracism' into nearly every facet of school life," says the Free Beacon. "In June 2020, all faculty and staff were required to read Ibram X. Kendi's How to Be an Antiracist, and that September all middle and high school students read Ta-Nehisi Coates's Between the World and Me. St. Albans also curates an extensive list of 'resources,' including Robin DiAngelo's White Fragility and an introductory textbook on critical race theory."
The Free Beacon says that transformation has been triggered partly by the accreditor for private schools like St. Albans. "St. Albans is a member of the Association of Independent Maryland and D.C. Schools, which expects that 'diversity practice' be 'an organic part of every area of school life.'" This association, in turn, is a constituent unit of the National Association of Independent Schools, which expects all of its "approved accreditors" to mandate programming in "diversity, equity, and inclusion."
Under such pressures from their accreditors, "the best private schools in the nation's capitol have all come to resemble each other," says the Free Beacon. Even Landon, arguably the most traditional boys school in the Washington metropolitan area, hired a diversity trainer last year.