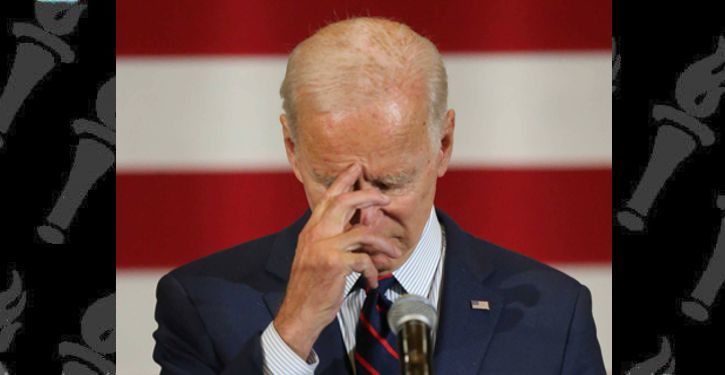 Founding Father Benjamin Franklin wisely observed in 1789 that "Our new Constitution is now established, and has an appearance that promises permanency; but in this world nothing can be said to be certain, except death and taxes."
Another certainty that might be added to Franklin's list is that as long as he remains president, Joe Biden will continue to mangle his words when he speaks publicly, largely because the experience for him is rote. The words on the teleprompter may well be gibberish, as far as he knows. Sometimes, in fact, they are.
That was the case yesterday with his long-winded speech in Philadelphia excoriating Republicans for not signing onto his sweeping voting rights bill. A video of a portion of that speech followed by a transcript appear below.
As has become an inevitability of a Biden speech that goes on too long, he became tongue-tied about halfway through. That he is about to lose it becomes evident he starts slurring his words beginning with 13th, 14th and 15th amendments. By the time he gets to Ku Klux Klan, a tongue-twister by any measure, the best he is able to muster is Ku Kluck Kan Kan.
At the end of the segment, he mentions just having returned from G-7 and NATO summits where, he claims, world leaders asked him if "the citadel of democracy in the world going to be OK?" If world leaders are truly concerned about the stability of America, how realistic is it that they would ask this doddering old fool for his assessment?
You don't call facts fake and then try to bring down the American experiment just because you're unhappy. That's not statesmanship. That's selfishness. That's not democracy, it's the denial of the right to vote. It suppresses, it subjugates. The denial of full and free and fair elections is the most un-American thing that any of us can imagine, the most undemocratic, the most unpatriotic, and sadly, not unprecedented. From denying enslaved people full citizenship until the 13th, 14th and 15th amendments after the Civil War, denying women the right to vote until the 19th Amendment 100 years ago, to poll taxes and literacy test and the Ku Kuck Kan Kan [sic] campaigns of violence and terror that lasted into the '50s and '60s, to the Supreme Court decision in 2013, and then again just two weeks ago, a decision that weakened the landmark Voting Rights Act, to the willful attacks, election attacks in 2020, and then to a whole other level of threat. The violence and the deadly insurrection on the Capitol in January 6th.