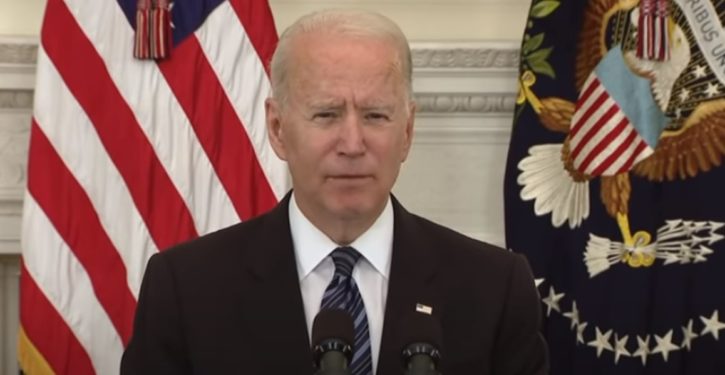 Dr. Anthony Fauci may have famously had his face on a jelly doughnut, but what he is principally known for at this point is flip-flopping on all of the main public measures proclaimed to combat COVID-19.  From lockdowns to face masks to school closures to the efficacy of vaccines, Fauci has seemed to be on every side of the issue; in most cases, more than once.
The Biden administration gave him a run for his money in the last 72 hours on one topic, however.  But it took three prominent spokespersons to bring it off.
The topic:  the administration's vow to go door-to-door across America to spread the gospel of vaccination.  It was on Tuesday at the White House press briefing that Jen Psaki announced President Biden's intentions on the matter:
The President will outline five areas his team is focused on to get more Americans vaccinated.

One: targeted, community-by-community, door-to-door outreach to get remaining Americans vaccinated by ensuring they have the information they need on how both safe and accessible the vaccine is.
The blowback was instantaneous, numerous critics wanting to know things like what "targeted" meant and whether federal agencies would be coming around to Americans' homes asking about their vaccination status.  "Creepy" was the word used by many to characterize the plan.
Later on Tuesday, President Biden used similar language to affirm that, indeed, the administration had in mind a door-to-door campaign to get people vaccinated.
President Joe Biden said Tuesday that he would be sending officials out to knock on people's doors across America to pressure them to take the coronavirus vaccine.

"Now we need to go community by community, neighborhood by neighborhood, and often times door by door – literally knocking on doors to get help to the remaining people," Biden said during his speech about coronavirus.
Critics at this point were wondering what the administration would do about households where residents failed to give the approved responses (regardless of vaccination status. Many people (a) are vaccinated, and (b) guard their medical privacy and aren't going to answer questions from people who have no business asking them).  Would someone be logging addresses and responses?  Every American has the absolute right, after all, to simply not disclose his or her vaccination status or intentions — especially to random strangers whose identity they probably have no way to reliably verify.  Respect for that right starts with not confronting people in their homes.
Keep in mind, 67% of Americans have had at least one dose, and 54% have had two.  That's a huge number of people, without a door-to-door campaign.  Combined with the number of Americans who have been infected and developed antibodies (estimates range from 30 to 60 million, the last I saw), this puts our population at or past herd immunity in the opinion of a number of experts.  COVID-19, even with new variants appearing, is simply not an ill-addressed crisis at this point.
The Biden secretary of health and human services, Xavier Becerra, was having none of this recalcitrance.  On Thursday, he weighed in on CNN with summary thoughts that need only be quoted in full:
Health and Human Services Secretary Xavier Becerra said Thursday it was "absolutely the government's business" to know which Americans haven't been vaccinated yet against the coronavirus.

Responding to GOP criticisms of the Biden administration's planned "door-to-door" campaign to encourage unvaccinated Americans to inoculate themselves, Becerra told CNN the government has had to "spend trillions of dollars to try to keep Americans alive during this pandemic."

"So it is absolutely the government's business, it is taxpayers' business, if we have to continue to spend money to try to keep people from contracting COVID and helping reopen the economy," he said.
The government hasn't spent trillions of dollars trying "to keep Americans alive" during the pandemic, of course.  It has spent a few billion on that.  The trillions have gone to pork projects and mistargeted economic "relief" measures.  But regardless of the dollar amount, the taxpayers are also the patients and citizens who are owed privacy and self-determination in their medical decisions.
In a weaselly sort of way, Becerra gave that some backhand acknowledgment, hedging his wording just a bit.
Becerra said people didn't have to answer the door but he hoped they would so officials could dispel rumors about the vaccine …
But he showed what he really meant under questioning from the CNN host (emphasis added):
Asked by anchor Brianna Keilar if the administration was considering more aggressive measures to get more people vaccinated, Becerra hedged, saying he wanted people to have "as much freedom and choice as possible."

"We want to give people the sense that they have the freedom to choose. But we hope they choose to live," Becerra said.  [The survival rate for people who are infected with COVDI-19 is 99%.]  "We hope people make the right choices. We want them to have the right information, but we are America. We try to give people as much freedom and choice as possible, but clearly when over 600,000 Americans have died, the best choice is to get vaccinated."
The "sense" that they have the freedom to choose?   Secretary Becerra has lost the thread.  Americans don't have "senses" of freedom that need tending.  They have actual freedom that needs respecting.  Fortunately, the logic of vaccination is perfectly compatible with that.  You don't get vaccinated because the government says you have to, to avoid infecting someone else, or even because "science" says that.  You get vaccinated because the vaccine protects you, even when other people aren't vaccinated.  Each individual is a human moral actor, with human moral value — not an animal in a herd being husbanded by government agencies.
Naturally, the reaction to Becerra's proclamation was quite negative.  Becerra therefore commenced the Fauci Shuffle, claiming that his comments had been taken "wildly" out of context.
Some comments I made today are being taken wildly out of context. To be clear: government has no database tracking who is vaccinated. We're encouraging people to step up to protect themselves, others by getting vaccinated. It's the best way to save lives and end this pandemic.

— Secretary Xavier Becerra (@SecBecerra) July 8, 2021
Tweeted Becerra:  "Some comments I made today are being taken wildly out of context. To be clear: government has no database tracking who is vaccinated. We're encouraging people to step up to protect themselves, others by getting vaccinated. It's the best way to save lives and end this pandemic."
Clearly, the concern of critics is that Becerra — and Biden, and Psaki – evidently back the principle that would lie behind government having a tracking database; i.e., that who's vaccinated is "absolutely the government's business."
Psaki came through on Thursday with her own version of the Fauci Shuffle.  She assured Americans that federal employees are not the people who will be coming to their doors.  It will be community volunteers and clergy members.
When asked Thursday to explain who is knocking on people's doors encouraging them to get vaccinated and where, Psaki said, "Sure, let me first say that this has been ongoing since April, and the best people to talk about vaccinations are local trusted messengers, doctors, faith leaders, community leaders." …

"They are not members of the government. They are not federal government employees. They are volunteers. They are clergy. They are trusted voices in communities who are playing this role in door-knocking, and this is one of the tactics that we've used over the last couple of months …"
But that wasn't the issue for the people who find this a creepy practice.  In fact, it seems even more creepy to have an army of volunteers — especially "faith leaders" — going door-to-door singing Hosannas for vaccines.  An activity sponsored by the federal government by definition cannot be "grassroots":
"Those are the people who are the trusted messengers around the country, and we believe that we need to empower these individuals to continue to work in communities to make sure people know that these vaccines are safe, that they can save lives, and so these are grassroots voices across the country," the press secretary said.
As one tweep suggested, imagine substituting abortion or HIV for COVID-19 vaccination status, and see how you feel about the government sponsoring clergy and community leaders to go door-to-door lecturing you about whatever the government has adopted as its favored method of "saving lives."
As Wilkow pointed out this afternoon… how about we try this with abortion?

Taxpayers pay for women's health care… does the government get to ask who has had an abortion?

Or how about HIV status? Can they ask about that?

— Cheryl (@cheryleliz) July 9, 2021
The Fauci Shuffle looks like a change of face whenever it kicks in.  But it never really is.  It's about deflecting blowback with a new tack in the messaging strategy.  The message is always the same: we'll tell you what you have to do, because the real, enduring principle is that our prerogative trumps yours.