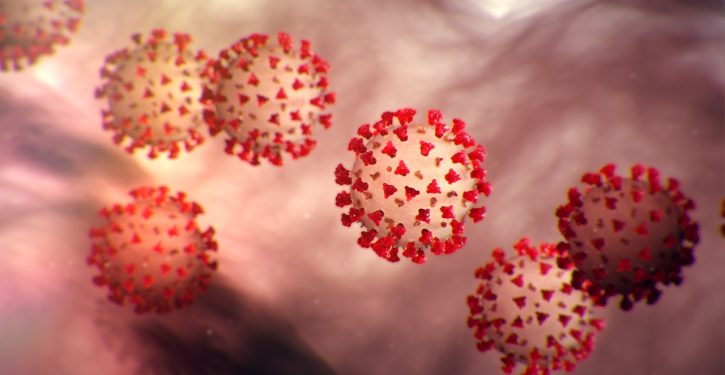 Foreign criminals appear to have received around $300 billion from America's pandemic unemployment funds. Such handouts were paid for with government borrowing that has increased America's national debt to a point where it is now much bigger than our economy.
The New York Post reports that half of America's pandemic unemployment money may have been stolen, with foreign scammers collecting most of the stolen money:
Fraudsters may have plundered as much as half of the unemployment benefits that the US pumped out in a hurry during the pandemic.

Blake Hall, CEO of ID.me, a fraud prevention service, told Axios that the US has lost more than $400 billion to crooked claims.

Trending: At age 15, Beto O'Rourke wrote a short story fantasizing about killing children, mass murder

The US may have been robbed of as much as half of all money given out through unemployment benefits during the pandemic, Hall told the outlet.

Haywood Talcove, the CEO of LexisNexis Risk Solutions, estimated that most of the stolen money, at least 70 percent, probably ended up outside the US, according to Axios.

Much of the pilfered funds likely went to criminal syndicates in China, Nigeria, Russia and elsewhere, he said, according to the outlet. "These groups are definitely backed by the state," Talcove told Axios.

A lot of the money was also likely stolen by US street gangs, who have been taking a greater share of the stolen funds in recent months.
U.S.-based criminals also profited enormously from COVID relief legislation. In California alone, officials say they may have paid as much as $31 billion in unemployment funds to criminals, in massive insurance scams. The true amount of fraud may be far higher.
In a conference call, Julie Su, secretary for the California Labor and Workforce Development Agency said, "Of the 114 billion dollars in unemployment paid by California since March, approximately 10% has been confirmed as fraudulent. An additional 17% of the paid claims have been identified as potentially fraudulent." "There is no sugar coating the reality, California did not have sufficient security measures in place to prevent this level of fraud," Su said.
Amazingly, President Biden has nominated Su to be Deputy Secretary of Labor. As Tom Manzo noted in The Hill,
Countless Californians, ranging from business owners to those struggling on unemployment, have suffered because of Su's incompetence. While Su was at the helm…the "most significant fraud on taxpayer funds in California history" took place at the Employment Development Department (EDD). Here's how it went down. Prior to the pandemic, the EDD failed to update its outdated system, even though California had set aside $30 million for a modernization effort more than four years earlier. Under Su's leadership, this crucial update never made it out of the "planning stages."

When the pandemic hit, millions of Californians tried to apply for desperately needed unemployment insurance benefits. In response, the EDD's system crumbled, and Californians seeking help were abandoned. Fewer than one percent of calls were answered by the agency helpline. As many as 1.8 million Californians suffered without their payments. The outrage was so great that state leaders demanded an auditor look into the problems plaguing the EDD. While investigating the website debacle, the audit also uncovered massive fraud that was taking place during the same time period.
Not all criminals get COVID relief payments due to fraud or scams. Some legally qualify for payments, because the coronavirus relief legislation was deliberately written to include prisoners in the U.S.
Prison inmates got $1400 stimulus payments under the COVID relief law that President Biden signed in March. Senator Bill Cassidy objected to that, saying prisoners have "their living and medical expenses paid for by the taxpayer," "don't pay taxes," and "can't be unemployed. Inmates are not economically impacted by Covid." Senator Tom Cotton noted that "Dylann Roof murdered nine people," yet "he'll be getting a $1,400 stimulus check as part of the Democrats' 'COVID relief' bill."
Economists had expected that the U.S. economy would add over a million jobs in April 2021, because it had been growing rapidly since fall 2020 after bouncing back from the recession caused by the coronavirus. But Biden's "coronavirus relief" law, the "American Rescue Plan," prevented that, by reducing job growth.
After Congress passed Biden's $1.9 trillion "American Rescue Plan" in early March, employment grew by far less than expected in April, resulting in a shortfall of 700,000 jobs. Biden's plan reduces economic growth by encouraging people to work less and earn less money. It takes away some people's tax credits if they work harder and earn a little bit more money.  It gives some people more money in unemployment benefits than they would get by working. And it guts welfare reform, giving some people welfare even when they could work.
In the long run, Biden's plan will reduce the size of the economy and wipe out jobs by massively increasing the national debt. "The existence of the debt saps the rest of the economy," says Efraim Berkovich of the University of Pennsylvania's Wharton School of Business. "When the government is running budget deficits, the money that could have gone to productive investment is redirected…you're taking away from the capital that we need to grow our economy in the future."