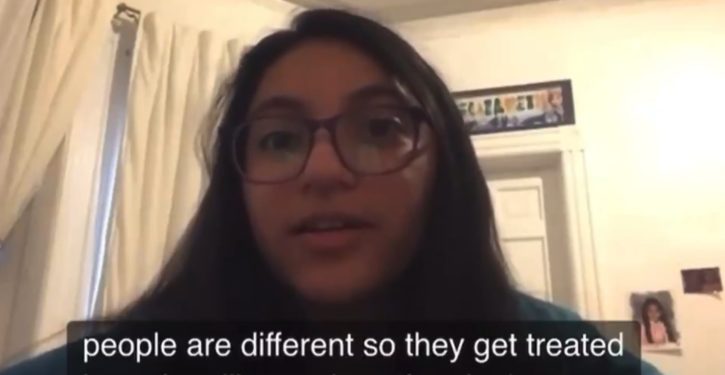 One might say "straight from the horse's mouth," but the disturbing beliefs the fifth-graders in this video below have been brainwashed into parroting emanate from another part of the beast's anatomy.
The ideas they mimic come from a school lesson plan that focuses on "inquiry-based learning for anti-racist anti-bias teaching." The curriculum was developed (in collaboration with Pizza Hut!) by a group called "Empowering Educators."
The proud teacher in the video, Alison Dempsey, explains how this curriculum came to be. "Racist teaching and learning" she explains, "is upholding the systems and sort of like the classroom hierarchy. Inquiry-based learning challenges that model because the children guide the learning."
She then provides an example of this new-fangled "inquiry-based learning," which sounds a lot in practice like the Socratic method (viz. question and answer) that I used when I taught school. Here's the opening question posed by the teacher: "What are some racial differences that you've noticed around you?" It's a fairly open-ended question, but the trained seals in Dempsey's care have been conditioned to respond with the "right" answer. (If this were a math class, of course, there would be no right answer, but that's grist for another post.)
Here's a partial transcript:
Child 1: People are different so they get treated based on like, um, how they look, and what who decided that is like the dominant culture.

Teacher: What is the dominant culture? What does the dominant culture do?

Child 1: They make people believe certain stereotypes about a certain group of people, not just blacks but also browned [sic] or indigenous — anybody whose skin color is darker.

Child 2: Dominant cultures for powerful people with power and white people make other people think that black people are bad.
Fifth grade social studies teacher shares her Critical Race Theory "anti-racism" curriculum from her classroom. Listen to what these KIDS have been conditioned to say.

This CRT curriculum is part of a collaboration effort with "Empowering Educators" sponsored by Pizza Hut. pic.twitter.com/xGc9Wetn0p

— Mythinformed MKE (@MythinformedMKE) June 3, 2021
Around seven years ago, LU published a post about the insidious practice of poisoning young Palestinian minds by, for example, teaching them the "correct way to stab a Jew." Who could have imagined back then that we here in the U.S. are now teaching the same kind of hateful rhetoric in our classrooms? (RELATED: Biden administration views schools as racist for colorblind school discipline)