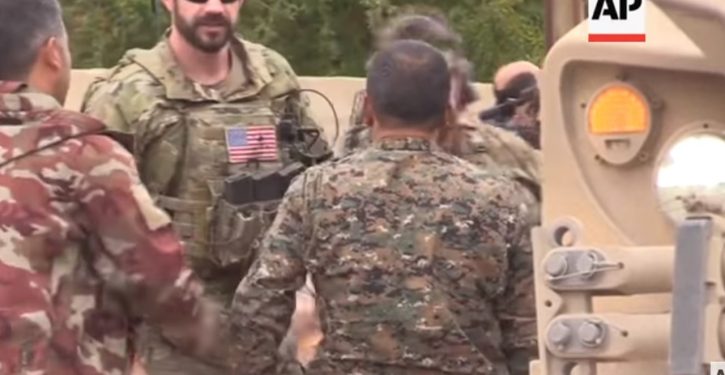 Now and then, in the annals of journalism, you run into a hardened and deeply-buried lead (or lede; choose your poison), and it's striking enough that it lurks over the up-front narrative like Nemesis over complacent Greeks.  Such is the case with a theme being reported about directed-energy attacks on U.S. troops in Syria.
There have been two articles in the series at Politico now, and in each one there is extensive development of the directed-energy attack theme.  Then there's the deeply-buried lead-let.
It goes by in a flash.  The theme speaks of a probe at the Pentagon, and another at the CIA; of a likely attribution to Russia; of a similarity to possibly related events, in recent years, dogging personnel at U.S. diplomatic facilities in Cuba and China and Russia; of briefs to members of Congress.
Then the lead-let drops:  "Gen. Frank McKenzie, head of U.S. Central Command, told lawmakers during a Senate Armed Services Committee hearing that he has seen 'no evidence' of such attacks against U.S. troops in his area of responsibility, which includes the Middle East and Afghanistan."
So Congress members are getting briefs on it – from Defense Department staffers – but the CENTCOM commander says he's seen no evidence it's happening.
If that's the case, how are the briefs to Congress happening?
This eye-opening pair of passages also occurs, in the space of three brief paragraphs:
The briefers said they were concerned about the growing frequency of apparent attacks around the world, but noted that they are especially concerned about the vulnerability of U.S. personnel in the U.S. Central Command area of operations, which includes combat zones from Syria and Iraq to Afghanistan, the people said.
Followed by:
A Defense Department official familiar with the briefing, however, said the Central Command region was not a part of the discussion. Representatives of the Armed Services Committee and the National Security Council did not immediately respond to requests for comment.
Maybe this one will resolve itself, whether quietly or with some kind of audible noise, and we can all go back to sleep.
But for now, the discrepancy is what has my attention.
(And yes, Syria is in General McKenzie's "AOR" – area of responsibility.  See map at the bottom.  McKenzie is a Marine, incidentally.)
The first Politico article – both were published on Thursday 22 April – gave no names of Pentagon briefers, or even a description of their jobs or roles.  But the second article spotted us two names:  "[House Armed Services] Committee members heard from Jennifer Walsh, the acting Pentagon policy chief, and Griffin Decker, the Pentagon's director of the emerging threats cell."  This occurred on Wednesday the 21st, according to Politico.
Jennifer Walsh is a career staffer appointed to the Senior Executive Service in 2010, and has been Performing the Duties of ("PTDO") the Under Secretary of Defense since 20 January.  Her day job is Principal Deputy Assistant Secretary of Defense for Homeland Defense and Global Security in the Office of the Under Secretary of Defense for Policy.  As the rule goes in federal service, the more gibberish in your title, the further you are from appointed principal-dom.  Ms. Walsh is undoubtedly a senior executive, but one who would ordinarily be briefing Congress, when she did so at all, as Principal Deputy Assistant Secretary of Defense for Homeland Defense and Global Security – which might or might not put her in the department lead on the topic of directed-energy attacks on our troops abroad.
It's here where the discrepancy with General McKenzie's statement is most glaring.  Seeing the claims of a USD-level official be at odds with the claims of the theater commander, on a topic like this, is arrestingly peculiar.  Frankly, the more usual profile would see McKenzie briefing Congress, with Walsh there to back him up and speak of what the Pentagon staff was doing about the problem.
The other briefer, Griffin Decker, doesn't have a traceable public profile – not surprising, as his job title puts him at U.S. Cyber Command, on the NSA compound at Ft. George G. Meade.  He may well have started out at NSA, where employees don't go out of their way to become notorious.  Cyber Command stood up its "emerging threats" task force in 2018, and apparently it is engaged, as we would expect, with the directed-energy attack problem.
In a truly odd but no doubt coincidental twist, Mr. Decker's name is like that of a fictional character in a popular detective-story series by author Karen Rose.  I wasn't familiar with it, but it's the first and practically the only thing that comes up in a search on "griffin decker."  The fictional detective is an FBI agent, Griffin Davenport, who goes by "Decker," and is universally referred to in reviews as "Griffin 'Decker' Davenport."
I have no doubt Walsh and Decker are accomplished and serious people.  But neither is senior enough to approve a brief on this topic to Congress, particularly in light of General McKenzie's comment on the matter.  I'm wondering where the green light came from to cross-brief with McKenzie – and, more generally, what's going on.