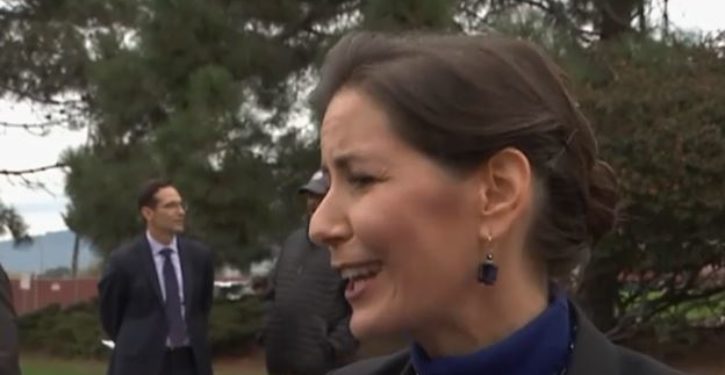 In California, local governments are administering welfare programs that exclude whites and men. At least one of these programs violates the Constitution by discriminating based on race and gender, at taxpayer expense.
The San Jose Mercury-News reports on the program adopted in California's Marin County:
Marin County supervisors have allocated $400,000 to participate in a universal basic income experiment with the Marin Community Foundation.

The foundation plans to spend $3 million to give $1,000 a month to 125 low-income women for 24 months. To qualify, the women must have a child under the age of 18….the Marin initiative will be limited to non-White women.
Local governments can't use tax dollars to finance racially-discriminatory programs by private entities, under Supreme Court decisions like Norwood v. Harrison (1973). Racial discrimination against whites is generally unconstitutional under the Supreme Court's decision in Richmond v. J.A. Croson Co. (1989).
The Marin program doesn't just racially discriminate against whites — it totally excludes them. Complete exclusion of whites is generally unconstitutional even when a mild preference for minorities is permitted, such as in an affirmative-action program designed to remedy governmental discrimination against a minority group.
Only recent, systemic discrimination against a minority group by the government can justify it giving that minority group even a mild racial preference. That means widespread discrimination by the unit of government giving the racial preference, not just a few individual instances of discrimination against minorities. (See, e.g., Coral Construction Co. v. King County (1991); Hammon v. Barry (1987)).
Nothing in any news report suggests that Marin County has been systematically discriminating in recent years against minorities, much less doing so in the context of welfare programs. So Marin County can't have a preference for minorities in a county-funded welfare program, much less totally exclude whites from it.
Marin County's new welfare program also excludes men, by giving money to low-income mothers, not low-income fathers. Under the California constitution, preferences for women are generally unconstitutional, because the state constitution applies "strict scrutiny" to both racial and gender preferences, rendering most affirmative action for women unconstitutional. As a result, state courts have struck down gender-based affirmative-action programs even when they did not totally exclude men. (See Connerly v. State Personnel Board (2001)).
The federal Constitution is more permissive of affirmative action for women, but even it doesn't allow women to be given a preference unless the government can point to a history of discrimination against women in the relevant sector covered by an affirmative-action program. And totally excluding men is another thing altogether. (See Associated General Contractors v. San Francisco (1987)).
Oakland, California, is sending out $500 monthly checks to poor families, if they are not white. This program, however, is "privately funded," not funded with tax dollars, so it is not clear whether it violates the state or federal constitutions. The federal constitution only bans racial discrimination by the government, not by private entities. (See Moose Lodge v. Irvis (1972)). Unless Oakland devotes staff time to administering this program, or runs up expenses doing so, it may not violate any constitutional provisions.
The Associated Press reports:
The mayor of Oakland, California, on Tuesday announced a privately funded program that will give low-income families of color $500 per month with no rules on how they can spend it.

The program is the latest experiment with a "guaranteed income"….The idea isn't new, but it's having a revival across the U.S. after some mayors launched small, temporary programs across the country in a coordinated campaign to convince Congress to adopt a national guaranteed income program…"We have designed this demonstration project to add to the body of evidence, and to begin this relentless campaign to adopt a guaranteed income federally," Oakland Mayor Libby Schaaf said.

The Oakland Resilient Families program has so far raised $6.75 million from private donors including Blue Meridian Partners, a national philanthropy group. To be eligible, people must have at least one child under 18 and income at or below 50% of the area median income — about $59,000 per year for a family of three.