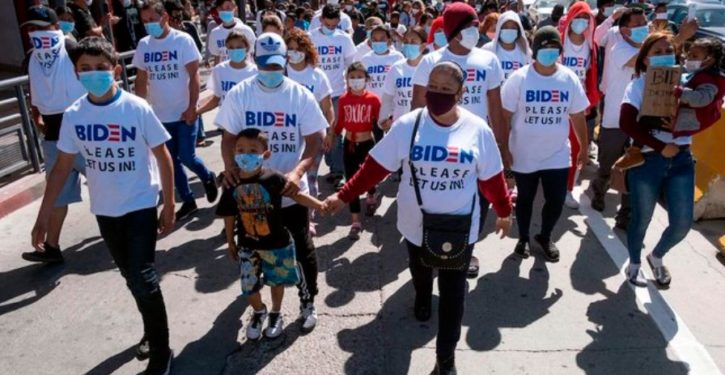 Photos of marching asylum seekers wearing t-shirts that read "Biden, please let us in" have cropped up on social media. Although the message is polite — it does contain please — it bespeaks a growing impatience among migrants who expected their transition to a new, better life in America to be smoother and faster.
Many feel that Joe Biden hasn't made good on his promise to them — or at least what they seem to think he promised. Some are laboring under the misapprehension that Biden had promised citizenship to migrants who reached the U.S.-Mexico border within his first 100 days in office.
This view was articulated back in January by one migrant from Roatán, a tourist island off the northern coast of Honduras, who told reporters:
I'm coming from way far away from the border. … I'm here today because I'm dreaming to get to the U.S. … What I want for my people … is to to get to the U.S. because they're having a new president … Biden. He's gonna help all of us. He's giving us 100 days to get to the U.S. and for the U.S. government to pay for so we could get a better life for our kids and family.
Trending: Judge orders schools to require masks, citing disabilities-rights laws
Watch:
Honduran migrant: President-elect Biden is "going to help all of us." pic.twitter.com/LkrVCsXcSb

— The Hill (@thehill) January 18, 2021
The view, which conflates two Biden campaign promises — freezing deportations during his first hundred days and to increasing the number of immigrants to the U.S. — appears to have gained prominence since January, when that video was shot. Nor has the administration taken measures to set the record straight.
Even young children wrongly believe Biden's 100-day milestone was a period during which all migrants were welcome. Podcaster Sara Carter visited the border. Here is part of a report she made on the Hannity show last night. A transcript of the money portion follows:
I think the hardest part … was running into the young children. There were children as young as four years old in this group. Many of them were traveling by themselves without any adults. … I asked them, 'Do you know who the president of the United States is?' They said, 'Yes, of course, it's President Biden.' And they misinterpreted his stop on deportations for 100 days as being an invitation to arrive to the United States. They said that the human traffickers, the cartels, the people that were moving them into the United States basically said it was about 100 days to get here to freedom, so that once they got here, they would have the amnesty.
In the meantime the administration is refusing to allow the media inside the jury-rigged shipping containers that have been pressed into use as child holding facilities, and descriptions of life within the tents erected on the border reveal conditions not radically different from those that obtained during the Trump years, which Biden and other Democrats have ridiculed.
As for the t-shirts described earlier, it seems only a matter of time before the woke generation begins sporting this new fashion in solidarity with their south-of-the-border brethren.