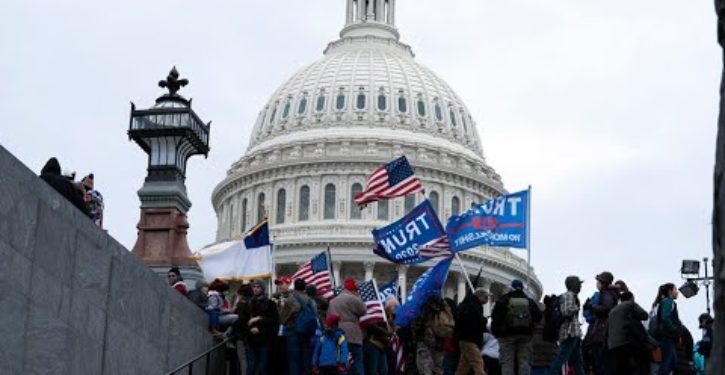 It no longer seems a question of if but of when the 6th of January becomes a national day of remembrance, right up there with Dec. 7 and Nov. 11. Yesterday's televised group therapy session, in which members of the House of Representatives took turns describing their personal ordeals on that fateful day, strikes me as the latest indicator that Democrats intend for the date to live in infamy. (RELATED: Ocasio-Cortez should walk a mile in a real riot victim's shoes)
No member of Congress was killed or even injured during that day's riots, but it still appears Democrats are determined to make Republicans "remember." One of the leading voices in the move to enshrine Jan. 6 is likely to be that of Rep. Alexandria Ocasio-Cortez, who kicked off yesterday's "special order hour" and has bristled at "Republicans' suggestion that Democrats should just get over it." I don't know that any Republican made such a suggestion, but Ocasio-Cortez is quoted in Vanity Fair as having said, "Given another window of political opportunity for themselves, even if they know that it means that it will endanger their colleagues, they will do it again."
It's not clear to me what she thinks Republicans did and will do again. What several of them, including Sens. Ted Cruz and Josh Hawley, did on Jan. 6 was to exercise their constitutional right to challenge the electoral college certification of Joe Biden's victory. The Democrats themselves have exercised this right. In any case, raising an objection on the floor of the Capitol is light years away from provoking several hundred miscreants from carrying out a pre-arranged plan to storm the building.
Ocasio-Cortez is not the only Democrat seeking to hold Republicans accountable for the riots or "insurrection," as it is better known to the Left. All speak in the same grave tone about the recent rise of domestic extremism. A Google search for that exact phrase prior to Jan. 6 turns up very little. One near miss — the phrase domestic violent extremism — appears in a Sept. 2020 statement by FBI Director Christopher Wray, in which he observes:
The top threat we face from domestic violent extremists stems from those we identify as racially/ethnically motivated violent extremists (RMVE). RMVEs were the primary source of ideologically motivated lethal incidents and violence in 2018 and 2019 and have been considered the most lethal of all domestic extremists since 2001. Of note, the last three DVE attacks, however, were perpetrated by anti-government violent extremists. (RELATED: Domestic extremists should be treated like insurgents in Mideast: former CIA officer)
But RMVEs are not what Democrats have in mind when they address the specter of domestic extremism. The term as constructed would appear to encompass left-leaning groups such as Black Lives Matter and Antifa, who were responsible for several billion dollars in damages and at least 25 deaths in 2020's "summer of love." But as Democrats are eager to tell you, those people were peacefully exercising their right to dissent. The really enemy is "the one within," to borrow Nancy Pelosi's characterization after the riots.