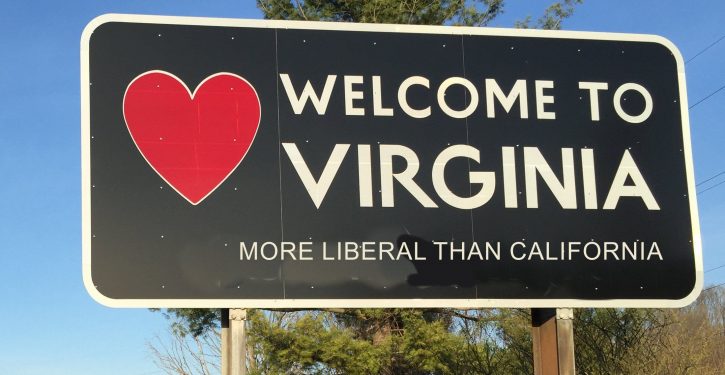 Would you like to keep Virginia from drawing legislative districts skewed in favor of the Democrats — that is, prevent liberal gerrymandering? One way to fight such gerrymandering is to apply to be a citizen member of the Virginia Redistricting Commission, which will draw the boundaries of Virginia's Congressional and state legislative districts. Virginia voters recently created the Commission in a state referendum, by passing a ballot initiative that was intended to prevent gerrymandering.
Applications can be submitted now and until just after Christmas. The application forms have just been posted on the Virginia Division of Legislative Services website, and in order to be considered for selection as one of the eight citizen members of the Commission you must submit an application by December 28. Three letters of recommendation are required to be submitted with each application. (I might be willing to submit such a letter on your behalf if you ask me; my email address is hfb138@yahoo.com. Because I once served as a political appointee in the government, I am apparently not eligible to sit on the commission).
If you don't apply, or get fellow conservatives or non-progressives to apply, the redistricting commission may end up being dominated by progressives. That's what happened in Arizona. Its redistricting commission ended up being effectively controlled by progressives, resulting in its congressional districts being skewed in favor of Democrats.
Far from being neutral between the two political parties, Arizona's "independent" redistricting commission proved to be a reliable ally of the Democratic party. For example, the commission gave Democratic votes more weight than Republican votes by packing more people into Republican-leaning districts than Democratic-leaning districts. At a time when Arizona was a mostly Republican state and Republicans easily carried Arizona in presidential and U.S. senate elections, Arizona's redistricting commission managed to draw Congressional districts for the U.S. House of Representatives in a way that resulted in five of Arizona's nine representatives being Democrats. Truly random, nonpartisan redistricting would have led to fewer Democratic representatives in Arizona, especially given how Democratic voters tend to be heavily concentrated in urban areas (as polling expert Nate Silver has explained).
And as Chief Justice Roberts noted in a Supreme Court case:
The facts described in a recent opinion by a three-judge District Court detail the partisanship that has affected the [Arizona] Commission on issues ranging from staffing decisions to drawing the district lines. … The per curiam opinion explained that "partisanship played some role in the design of the map," that "some of the commissioners were motivated in part in some of the linedrawing decisions by a desire to improve Democratic prospects in the affected districts," and that the Commission retained a mapping consultant that "had worked for Democratic, independent, and nonpartisan campaigns, but no Republican campaigns.
If you have questions about the application process, or what information would be helpful to effectively serve on the commission, please email me with any questions at hfb138@yahoo.com (if you give me your phone number, I can discuss it with you by phone if you prefer).