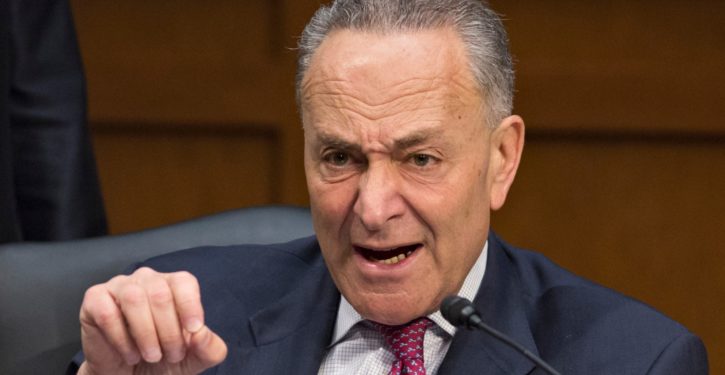 As congressional ages go, Chuck Schumer at 70 is a spring chicken. Yet, despite his relative youthfulness compared against Nancy Pelosi (80) and the president-elect himself (78), Schumer appears to be suffering from some of the same age-related confusion.
This is as good an explanation as any for why the Senate minority leader yesterday called upon his fellow senators to begin confirmation hearings for Joe Biden's cabinet picks "without delay" after the Georgia Senate runoff elections on Jan. 5.
The only problem with that demand is that the inauguration — the official procedure by which a president-elect becomes president — won't happen for another fifteen days. Schumer, in essence, is calling upon the Senate to confirm Biden's cabinet selections while Donald Trump is still president.
BREAKING: Sen. Schumer says Senate should begin confirmation hearings for Biden's Cabinet BEFORE inauguration:

"In the midst of this once-in-a-century crisis, it's imperative the next administration can count on the Senate to confirm its cabinet without delay" pic.twitter.com/ZcFJXbwKSa

Trending: Judge forces schools to require masks, citing disabilities-rights laws

— Breaking911 (@Breaking911) November 30, 2020
Look, I understand the Democrats' eagerness to rid the White House of Donald Trump, but can they let the guy finish packing before showing him the door?
An added irony in Schumer's proposal is that he was one of the loudest voices of protest when Pres. Trump exercised his constitutional duty to fill the vacancy on the Supreme Court left by the death of Ruth Bader Ginsburg on Sept. 18. Schumer went so far as to claim that the confirmation vote on Trump's nominee, Amy Coney Barrett, was an "illegitimate process":
This is not a decision the members of the committee have taken lightly," Schumer said during a news conference on the steps of the Capitol.

"But a Republican majority has left us no choice. We are boycotting this illegitimate hearing. The nomination of Amy Coney Barrett is the most illegitimate process I have ever witnessed in the Senate," the New York Democrat said.
Would he consider it more illegitimate than the process he is advocating for now?