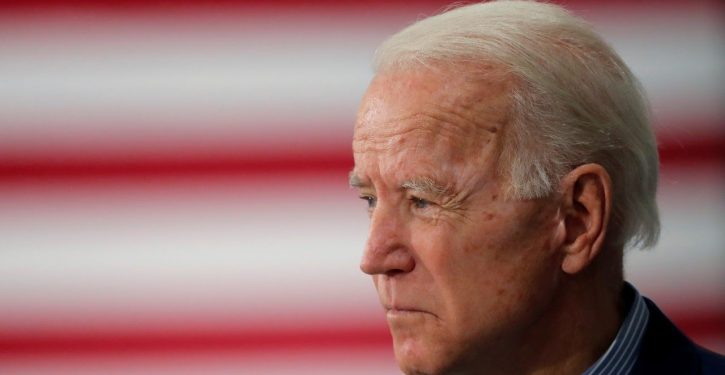 Age, and the neurological problems that frequently attend it, are not like a head cold. You don't "get over" dementia or Alzheimer's by taking an antihistamine and drinking plenty of hot tea.
Throughout the election season, the Left was careful to avoid broadcasting — or even mentioning — Joe Biden's verbal slips except on the occasions when candidate "everyman" beat his chest and offered to go a round with Donald Trump out in the schoolyard. It's likely there are voters who never witnessed one of his verbal lapses. (RELATED: New study finds 150 times more negative news on Trump than Biden)
But that doesn't mean he's "cured" or that he's done making them. That became clear yesterday from remarks he delivered in Wilmington following a virtual meeting with the National Governors Association's Executive Committee. Watch:
Looks like Joe Biden's teleprompter failed and his brain malfunctioned again. pic.twitter.com/qW8fgDXhFC

— Caleb Hull (@CalebJHull) November 19, 2020
Trending: Police Officer And 3 Others Die After Authorities Find 12-Year-Old Boy Shot In The Face
It's hard to tell whether he was using a teleprompter, but that's of little consequence since he's already lost his place or jumbled his words while reading from one. Take a look:
Joe Biden says this stuff while using a teleprompter pic.twitter.com/RPny7e3VWt

— Ryan Saavedra (@RealSaavedra) March 8, 2020
Further evidence of a likely age-related cognitive decline can be found in his frequent memory lapses. On more than occasion, he has forgotten the name of the president he served under as vice president, referring to him variously as "the last guy" and "my boss." And during a well-publicized concert in October he referred to the candidate he is running against as "George."
Because of the high visibility of the event, which was televised, the media attempted to run interference for him, claiming — unconvincingly — that he was addressing entertainer George Lopez, who was one of his interviewers.