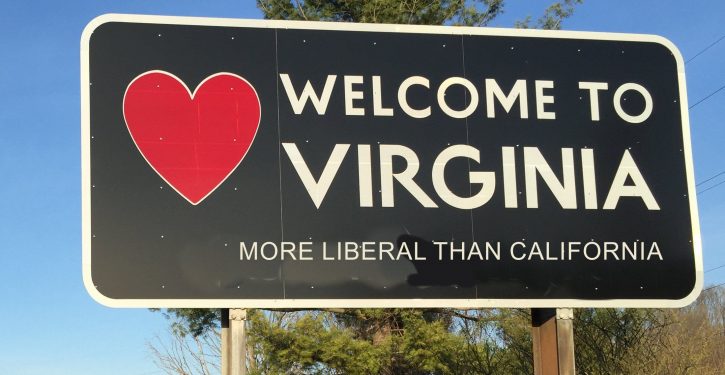 Huge numbers of people voted in Virginia on the first day of early voting — including in places where Democrats ousted Republicans in recent elections, such as the 7th Congressional district. As Jeanine Martin notes at The Bull Elephant:
Across the state voters waited in line for as long as 4 hours on Friday, the first day of early voting in Virginia.

Fairfax County had a wait time of 4 hours while Loudoun County had 200 people waiting outside the elections office when it opened at 8:30. Nearby Arlington county had 200 voters in the first hour of voting. Long lines also formed in Henrico County in the 7th Congressional district and in Chesapeake, the 3rd district, as well as other parts of the state.

Who will benefit from this massive early voter turnout?
It looks like the Democrats will benefit, judging from news coverage. The lines to vote were longest in liberal areas. As WTOP reports:
In Fairfax County, election workers were scrambling to open an additional voting room at the county government center where a line of hundreds of voters, spaced six feet apart, stretched down the block. Long lines were also evident in other northern Virginia locations, where Democrats outnumber Republicans.
Democrats also appear to be energized by the death of liberal Supreme Court Justice Ruth Bader Ginsburg.  The Democrats raised $100 million in the 36 hours after her death.
The Democrats now have more cash on hand than the GOP does. And Senate races are now close all over the country, with recent polls showing a tie in races in South Carolina and Georgia. Recent polls show Senate races almost tied in many other states, with Republicans leading by 1% in Montana, and Democrats leading by 3% in Iowa, and 4% in Maine and North Carolina.
The consequences of this election could be huge. Law professor Josh Blackman, citing sources in Washington, D.C., says that if the Democrats take power this fall, they will (1) eliminate the filibuster to pass progressive legislation along party lines; (2) give the Senate a more progressive makeup, by doing things like granting statehood to Washington, D.C. to include more progressive senators; and (3) expand the Supreme Court, so that they can pack it with progressive justices who will uphold legislation that the current Supreme Court would strike down as unconstitutional. (Blackman was a Trump critic and declared "Never Trumper" in 2016, who signed a public petition to "oppose the election of Donald Trump.")
Joe Biden said earlier this year that the filibuster should be abolished if it stands in the way of the "systemic change" sought by progressives.
Biden is further to the left, in his policy positions, than past Democratic presidential nominees, yet he has managed to avoid looking like an ideologue. As the progressive Peter Beinart put it in The Atlantic, "Despite embracing an agenda that is further to the left than that of any Democratic nominee in decades, [Biden has] avoided the specific policy proposals and catchphrases that Republicans find easiest to attack. As a result, he appears more centrist than he actually is."
Biden has proposed vastly more spending than any past Democratic nominee. He supports $3 trillion in new taxes and $11 trillion in new spending, according to Reason Magazine, which is endorsing neither Biden nor Trump. That is much less centrist than Hillary Clinton, who supported only $1.4 trillion in new spending in 2016, or Barack Obama, who claimed in 2008 (mistakenly as it turned out) that he would implement a "net spending cut."
Biden's large increase in spending doesn't include the cost of reparations, which could further increase the federal budget by an enormous amount. Biden wants to study the mechanics of reparations before funding them. Newsweek reported that "Biden said he was in favor of paying slavery reparations to African Americans and Native Americans if studies found direct cash payments to be a viable option." As the New York Times notes, reparations are "a policy that experts say could cost several trillion dollars."
Biden supports far-reaching changes to American labor and employment law. Biden has supported California's AB5, which curbed freelance work and eliminated the positions of thousands of independent contractors, to make unionization easier. He wants to implement it nationally.
Joe Biden supports the BE HEARD Act, which would subject even the smallest employers to lawsuits seeking unlimited punitive damages, liability to lawyers who sue them, the possibility of being sued over years-old allegations, and a definition of "harassment" that requires them to police speech even outside the workplace.
Biden also supports tens of billions of dollars in new government spending on racial preferences and set-asides, which the current Supreme Court, by a 5-to-4 vote, views as constitutionally suspect. A future, more progressive Supreme Court would likely uphold those racial set-asides, as a more liberal Supreme Court did in the past.
Biden also supports giving states a financial incentive to reduce prison populations, which could increase the crime rate over what it would otherwise be.
Some Democratic congressional candidates are well to Biden's left, such as Maine Senate candidate Sara Gideon. Gideon is narrowly favored to win the Maine Senate race. She supports the progressive firebrand Chesa Boudin, who unseated an establishment Democrat in a close San Francisco primary race. Boudin previously worked as the translator for the late Venezuelan dictator Hugo Chavez, a socialist he revered.
By contrast, it is hard to imagine Joe Biden supporting a progressive insurgent against a Democratic incumbent.