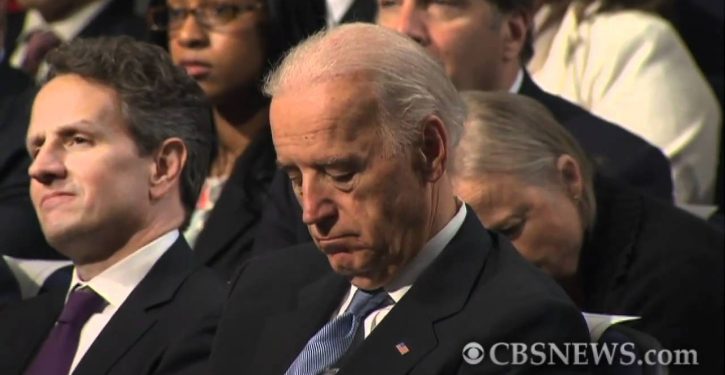 Someone get this man a calendar. During a campaign speech back in February, Joe Biden introduced himself as "candidate for the United States Senate." And if that wasn't enough to give voters pause, he assured them that if they did not like him they could "vote for the other Biden." (RELATED: Is it his dementia or his ignorance? Either way, Biden is unaware N. Korea has nukes)
Since then, he's upgraded his ambitions. Expounding on the many achievements he's been part of as the junior member of the "Obama-Biden administration," he is promising that they will do even more if "we are re-elected." Watch:
Umm… Joe Biden just touted the actions of "the Obama-Biden Administration" and said "this is just the beginning if we get re-elected." pic.twitter.com/v5h002ZuzT

— Trump War Room – Text TRUMP to 88022 (@TrumpWarRoom) September 14, 2020
Trending: Virginia may adopt pro-crime policy reducing inmates' sentences, echoing DC law
One might try to rationalize these gaffes as the corrosive effects of a hectic campaign schedule on a man of Biden's advancing years. But then one would have to be ignorant of the fact the former vice president has been taking it relatively easy. As the National Review's Jim Geraghty wrote on Sept. 9:
Yesterday, Biden's campaign "called a lid" — meaning no further public appearances were planned — shortly after 9 a.m.

On Monday, Biden traveled to Harrisburg, Pa., to attend an event with the AFL-CIO and the socially distanced gathering in a backyard in Lancaster.

On Sunday, Biden attended St. Joseph on the Brandywine Roman Catholic Church in Wilmington, Del., and the graveyard where his son, daughter, and first wife are buried. Biden himself had no public events. On Saturday, the campaign "called a lid" shortly after 10 a.m. — meaning he had no public events that day, either.

…

[T]his is a really light schedule for the first week of September in a presidential campaign.
By way of comparison Geraghty notes that in the span of five days in 2016, Hillary Clinton attended rallies and events in Cleveland, Ohio; Hampton, Ill.; Tampa, Fla., New York City, Charlotte, N.C., Kansas City, Mo., and then New York City again. And this was while battling with a bout of what was later diagnosed as walking pneumonia.