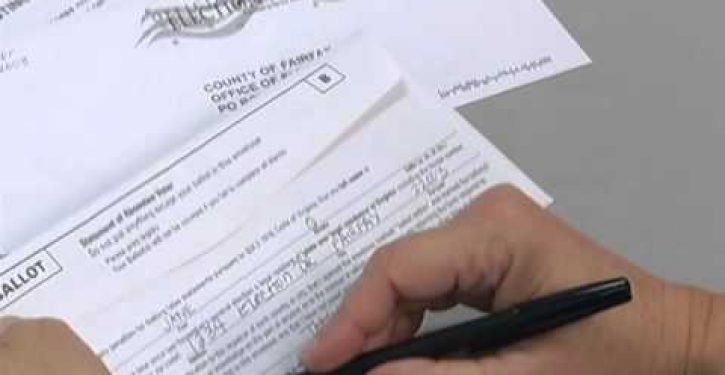 "With concerns mounting over how the country can conduct elections during a pandemic and Democrats pressing for alternatives to in-person voting, President Trump has begun pushing a false argument that has circulated among conservatives for years — that voting by mail is a recipe for fraud."
So begins a New York Times article dated Aug. 3, 2020 that quotes the president as asserting that "mail ballots, they cheat. Mail ballots are very dangerous for this country because of cheaters. They go collect them. They are fraudulent in many cases. They have to vote. They should have voter ID, by the way."
The Times writers then turn to the "facts" — which include the reality, according to experts, that mail-in ballots are "more vulnerable to fraud than voting in person." Moreover, "while Democrats have generally favored mail voting — which works in a very similar way to absentee voting — some have balked at its widespread use because of the reduced level of security when voters are not required to appear at the polls."
OK, maybe Trump's argument is not quite as "false" as the Times headline implies. But … "the president, vice president and cabinet members have voted by mail recently." So there's that.
Trending: Biden daughter's diary spoke of being sexualized at young age, taking 'inappropriate' showers with Joe Biden
What and who to believe? CBS News recently ran a mail-in voting experiment that went terribly wrong. Add to that the disquieting statistic that 28 million ballots went missing in the last four elections.
Finally, there's this eye opener that ran on Oct. 6, 2012.
On the morning of the primary here in August, the local elections board met to decide which absentee ballots to count. It was not an easy job.

The board tossed out some ballots because they arrived without the signature required on the outside of the return envelope. It rejected one that said "see inside" where the signature should have been. And it debated what to do with ballots in which the signature on the envelope did not quite match the one in the county's files.

…

Scenes like this will play out in many elections … because Florida and other states are swiftly moving from voting at a polling place toward voting by mail. In the last general election in Florida, in 2010, 23 percent of voters cast absentee ballots, up from 15 percent in the midterm election four years before. Nationwide, the use of absentee ballots and other forms of voting by mail has more than tripled since 1980 and now accounts for almost 20 percent of all votes.

Yet votes cast by mail are less likely to be counted, more likely to be compromised and more likely to be contested than those cast in a voting booth, statistics show. Election officials reject almost 2 percent of ballots cast by mail, double the rate for in-person voting. [Emphasis added]
The source of this alarm? The New York Times.