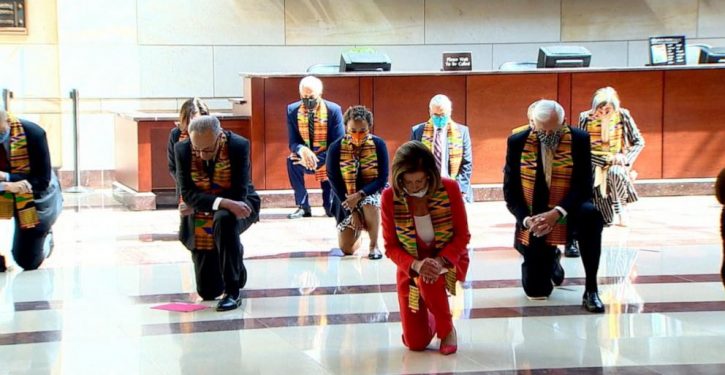 If Democrats are going to keep pandering to various ethnic factions in the country to win their support, they should at least try to get good at it. So far, they have been abject failures whenever they have tried to "walk a mile" in blacks' or Hispanics' shoes.
No one knows this better than Hillary Clinton, who affected a black accent while campaigning for the Democratic nomination in 2007.
In her 2016 campaign for president, Clinton generated "mucho fuego" by talking down to Hispanic voters.
Trending: Pennsylvania Drag Queen Who Performed For Children Charged With 25 Counts Of Child Pornography
Last week, it was congressional Democrats as a whole that attempted to feel the black community's pain, not only by kneeling down on the hard marble floor of the Capitol but by cloaking themselves in shawls made of African kente cloth. Nigerian-born author Obianuju Ekeocha author set Pelosi and company straight by writing:
Excuse me, dear Democrats, in your tokenism, you didn't wait to find out that this thing that you're hanging around your neck is not just some African uniform. …

Well, some of those dresses and patterns and colors and fabrics actually do mean something to us. … Why are you using the Kente material to signal your virtue? Stop it. … Africans are not children. …
Now it turns out that the particular pattern the Dems chose to flaunt was historically worn by rich African slave owners and traders! USA Today noted that in the days following the Democrats' stunt, social media users pointed out the cloth's historical ties to the slave trade. From the article:
Kente cloth was worn by the Ashanti. It's made of silk so the affluent wore it. The Ashanti were also known as slave owners and traders. … The Ashanti's long-time ally, the Akwamu, were among the first ones to profit from the slave trade with the Europeans. Their captives were almost always prisoners of war. …