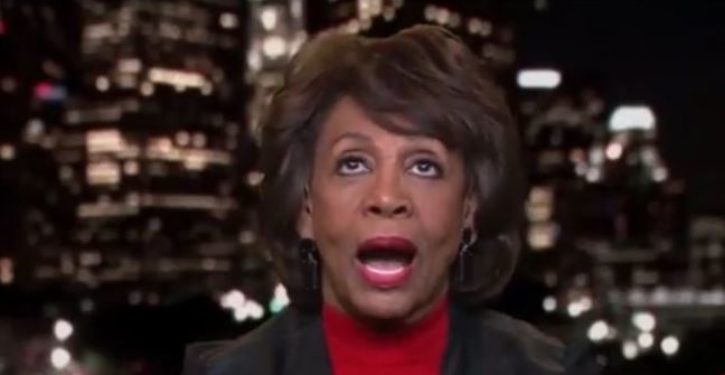 As Minneapolis and other cities burn in the wake of the tragic death of George Floyd at the hands of Minneapolis police officers, Rep. Maxine Waters has stoked the flames of racism by claiming that Donald Trump is the reason police officers feel they can get away with "killing black people."
In an interview with "TMZ Live," Waters commented on Floyd's death at the hands of "white supremacists."
"I'm reflecting on all of the killings of young black men in particular, but of course black women too, at the hands of the police and at the hands of these white supremacists," she said, wearing an ill-fitting mask while in nobody's presence.
Trending: Fauci is a multimillionaire, yet will get $350,000 pension from taxpayers
Trump To Blame
Waters proceeded to do what she does best during the interview – abandon reason and sanity by tying Trump, who had absolutely nothing to do with what happened in Minneapolis, to the officer's actions.
"And I'm thinking about the way that the president conducts himself — in a way he's dog-whistling — and I think that they're feeling that they can get away with this kind of treatment," she claimed with about as much evidence as she usually has to back up her arguments: none.
Waters seems to have forgotten that a rash of police killings of black men occurred when Barack Obama was president. Does she believe that Donald Trump was nearby, egging the officers on to pull the trigger?
The president meanwhile, has tasked the FBI and the Department of Justice with investigating the case which he defines as "the very sad and tragic death" of Floyd.
"My heart goes out to George's family and friends. Justice will be served!" Trump said.
That doesn't sound like a man who winks and nods at law enforcement officers with a go-ahead to kill unarmed civilians.
How many of you want to bet me that they'll spin the Minneapolis police killing a black man into President Trumps fault somehow?

Prayers for the mans family.

— James Bledsoe. (@HTWells3) May 28, 2020
Dopes of a Feather 
Waters's assertion that Trump is somehow to blame isn't a smart take, but it's also not an original one. An equally intellectually challenged Joy Behar made the same assertion on "The View." "You know, it doesn't help – I mean, I hate to bring Trump into this, but it doesn't help that the president of the United States says things like, don't be so nice," Behar claimed.
Waters proceeded to suggest that the police officer seen in the video kneeling on Floyd's neck enjoyed what he was doing. "I think that the officer who had his knee on his neck enjoyed doing what he was doing," she said. "I believe sometimes these officers leave home thinking, 'I'm gonna get me the one today' — and I think this is his one that he got today."
Cross posted at the Mental Recession