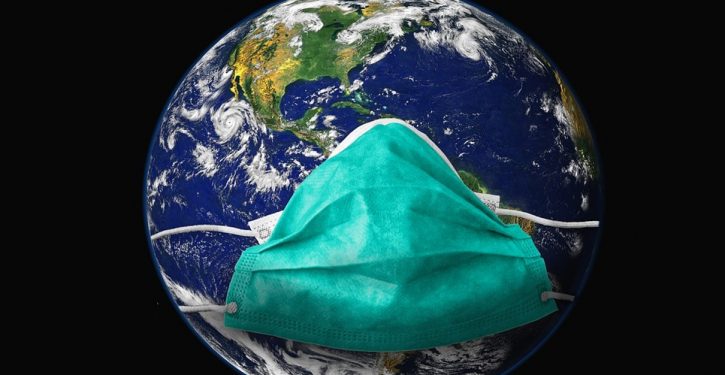 What's that old expression about cutting off your nose to spite your face?
On Friday, the president once again showed up for his daily coronavirus briefing maskless. And once again, he was asked pointedly about it by a member of the press. This time it was CNN's Kaitlan Collins who demanded to know "Why are some of you wearing a mask and why are some of you not wearing a mask?"
Trump's answer, which you can hear for yourself in the video that follows, is that it is optional at media briefings. "We've all been tested, and we're quite a distance away and we're outdoors," he explains.
Frankly, the whole mask question is one everyone might just as well dispense with asking at this point. Whether wearing a mask protects you or those in near you from being infected is a question that has never been satisfactorily answered. You may recall that early on, non-medical personnel were being advised not to wear masks.
Since then there has been some debate over whether wearing a mask is nothing more than a cosmetic gesture, and one doctor has even claimed that masks pose serious risks to healthy individuals.
What's more is that everyone in government seems to have his own rule for mask etiquette. Many members of Congress wear masks or other face coverings when moving around but then remove them when they address their colleagues. This group includes Speaker Nancy Pelosi, who back in April not only removed her mask while speaking but was captured on camera wiping her nose and then returning her hand to the podium.
As for CNN's Collins, one would guess from her question that she takes wearing a mask seriously. That assumption seems to be confirmed by the fact that she wears a face mask herself in the presence of fellow members of the White House press corps.
Or more accurately speaking, she wore one until a few hours after her confrontation with the president. After a briefing with Press Secretary Kayleigh McEnany in the Brady Briefing Room, Collins, still standing close by other reporters, removes her mask. The move comes at around 0:21 in the following video.
(h/t NewsBusters)