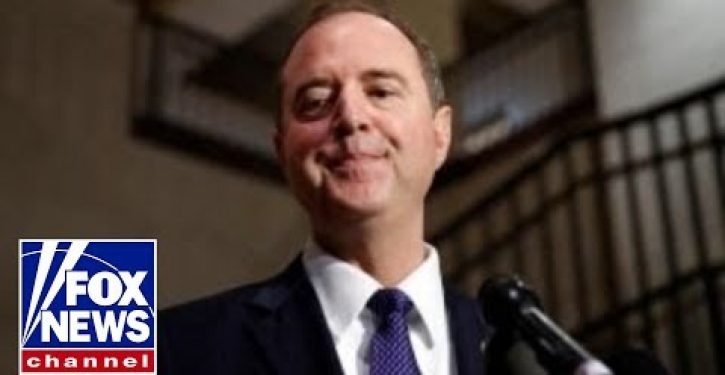 What should the penalty be for lying of this magnitude? What will it be? The reference here is to the whopper House Intelligence Committee Chairman Adam Schiff repeated for three-plus years that the Trump campaign had colluded with Russia to steal the 2016 election and that he had iron-clad proof.
Last week witnessed the release of 57 transcripts of interviews Schiff's committee conducted in its investigation into Russia's meddling. As an editorial in the Wall Street Journal underscores, most of the documents were safe to release long ago, but Schiff refused to release them. It was only when the White House threatened to release them if he didn't that Schiff demurred.
And what do those transcripts show? That Schiff was lying all along about having evidence of collusion. In fact, the evidence pointed to the contrary.
But that didn't prevent the California Democrat from telling MSNBC in March 2017 that though he couldn't "go into particulars … there is more than circumstantial evidence." In December 2017 of that year he told CNN that collusion was a fact.
As time went on, he added new rooms to his house of cards. In February 2019, he was asked if believed Donald Trump was a Russian asset. Schiff didn't come right out and answer yes, but he strongly implied that the president was. Watch.
During the opening argument phase of the Senate impeachment trial, Schiff, this time in the role of lead House manager, claimed that Trump was manipulated based on his personal interests to perpetuate Russian propaganda. He said:
If a president can be so easily manipulated to disbelieve his own intelligence agencies, to accept the propaganda of the Kremlin, that is a threat to our national security. And that is just what has happened here.
But we now know all of this was mythologizing. In July 2017, the new records reveal, former Director of National Intelligence James Clapper told Schiff, "I never saw any direct empirical evidence that the Trump campaign or someone in it was plotting/conspiring with the Russians to meddle with the election." Several months later, former Deputy Attorney General Sally Yates concurred, stating, "We were at the fact-gathering stage here, not the conclusion stage."
From the Journal editorial:
On it went, a parade of former Obama officials who declared under oath they'd seen no evidence of collusion or conspiracy — Susan Rice, Ben Rhodes, Samantha Power. Interviews with Trump campaign or Administration officials also yielded no collusion evidence. Mr. Schiff had access to these transcripts even as he claimed he had "ample" proof of collusion and wrote his false report.
Now that these documents have been released along with congressional testimony demonstrating that Schiff spread falsehoods, how will his fellow Democrats react? Will they continue to run interference for him or will they allow justice to prevail?
Stay tuned.