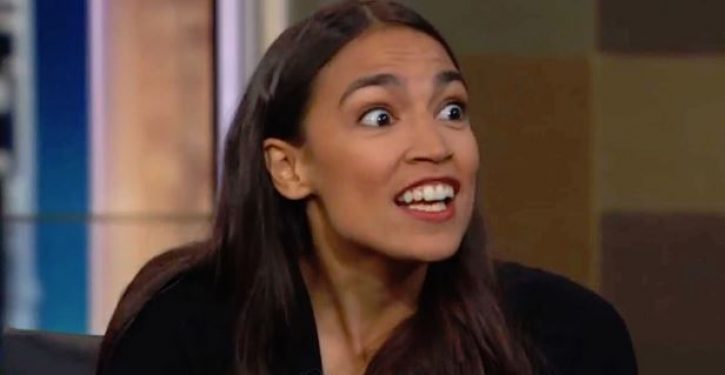 Socialist Rep. Alexandria Ocasio-Cortez is no stranger to having her foot in her mouth. She spent much of 2019 tasting leather after she hectored e-commerce giant Amazon into canceling its plans for a regional headquarters that would have brought 25,000 jobs to the congresswoman's New York district. The move was so lame-brained that even New York Mayor de Blasio, himself a closet socialist, blasted her for her shortsightedness.
On Monday, following reports that U.S. oil futures had plunged, Ocasio-Cortez "went there" again, tweeting:
It's anybody's guess what the "*cough*" was supposed to mean, but it didn't take long before Twitter users took her to school, pointing out that the report meant untold Americans in the oil industry would lose their jobs:
Rep. @AOC after seeing news that means American workers will lose their jobs: "You absolutely love to see it." pic.twitter.com/WcHb4fI220

— Matt Wolking (Text TRUMP to 88022) (@MattWolking) April 20, 2020
Others attempted to explain the downsides of the report in terms even an economics major like Ocasio-Cortez could understand:
Still others were reminded of Hillary's Folly in March 2016:
With primaries coming up in coal-rich states such as Pennsylvania, West Virginia, and Ohio, Democratic presidential front-runner Hillary Clinton may have surprised Buckeye State voters when she vowed (threatened?) to put coal miners out of business.
Ultimately, the upstart congresswoman was made to see the error of her ways and ultimately killed the tweet. But that didn't stop her from doubling down on her previous comment, tweeting:
Now is the time to create millions of good jobs building out the infrastructure and clean energy necessary to save our planet for future generations. For our economy, our planet, and our future, we need a #GreenNewDeal."
What's that expression about teaching an old dog new tricks?