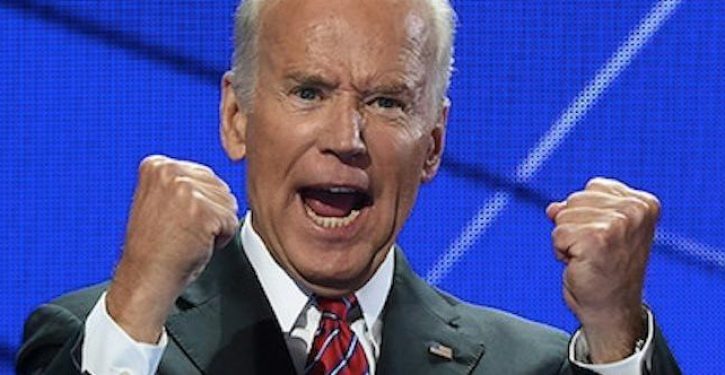 For the past three years, the Left has complained bitterly that Donald Trump is "unpresidential." Atlantic staff writer James Fallows compiled a running "time capsule" of the "norm-changing, unprecedented statements or positions or revelations that would have stopped any previous candidate but that did not impede him."
In 2018, MSNBC took Trump to task for his unprecedented profanity, compiling a mix reel for the occasion narrated by the network's Ari Melber.
A paragraph of text accompanying the video posits that Trump's habitual swearing in public "raises the questions of hypocrisy facing some conservatives who campaigned against profanity in music, movies and politics, but now support Trump."
Hypocrisy is something the Left knows all about, having practiced it so regularly. Yesterday, the Democrats' presumptive nominee told a voter while cameras rolled "You're full of sh*t." Biden also called the man "a horse's ass," threatened to slap him in the face, and spoke of "going outside" to settle their differences like men.
So how are liberals handling this revelation? CNN's Chris Cillizza wrote that "Biden's confrontation with an auto worker in Detroit is probably a good thing for him, while MSNBC's Andrea Mitchell reported simply that Biden and a voter were "mixing it up":
Former Vice President Joe Biden [was] mixing it up with an autoworker who accused him of trying to take his guns away for supporting gun reform after the Newtown massacre. Biden at one point saying that the worker was, and I'm paraphrasing it, 'full of it.'
MSNBC's take on Joe Biden attacking a union worker in Michigan, calling him "full of sh*t", a "horse's ass," and threatening to slap the worker?

Just Joe "mixing it up" ?

They also selectively edited the video to leave out the insults and the threat. Manipulation! pic.twitter.com/Ub4ZNI3B4z

— Elizabeth Harrington (@LizRNC) March 10, 2020
The Atlantic's David Frum meanwhile opined that it's "kind of amazing that anybody thinks this video makes Biden look anything other than terrific. He shushes the aide who wants to lead him away — and then engages a hostile critic face to face, fact to fact. Impressive."
Kind of amazing that anybody thinks this video makes Biden look anything other than terrific. He shushes the aide who wants to lead him away – and then engages a hostile critic face to face, fact to fact. Impressive. https://t.co/yINIKi4Ffi

— David Frum (@davidfrum) March 10, 2020
One of the reactions to Frum's response is also revealing about the liberal double standard:
Isn't behaving like a "tough guy" anathema to the Left, who preach against the sin of "toxic masculinity"? (RELATED: When is the Left going to take Biden to task over his 'toxic masculinity'?)