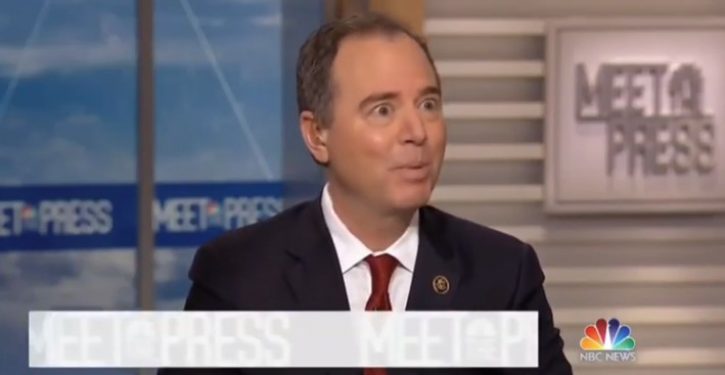 According to Sen. John Barrasso (R-Wyo.) House impeachment manager Adam Schiff turned pale on Saturday when President Donald Trump's defense team played video of his Ukraine call "parody." Apparently, by Sunday the California Democrat had regained his composure. Appearing on"Meet the Press," Schiff told Chuck Todd his conscience is clear with respect to both his "dramatic reading" of the transcript and his promotion of the Russia collusion hoax.
"Any regrets about either of those two moments, yourself?" Todd asked, specifically referring to the Russia collusion hoax and the made-up call transcript.
"No," Schiff said without batting an eye. "And I'm glad you asked the question about collusion, because, again, they may be perpetuating the president's talking points, but they've got it exactly wrong."
Come again? The Mueller report clearly said there was no collusion between the Trump campaign and the Russian government.
Trending: UC Berkeley students pledge money to help the Taliban kill Americans in the U.S.
Talk about no shame, whatsoever! As we and others reported, Schiff deliberately invented his version of the call transcript — a transcript President Trump had already released to the public — and later claimed it was a parody.
Meanwhile, Schiff himself colluded with Russians to procure fake nude photos of Trump from two individuals who turned out to be pranksters.
In fact, Schiff has repeatedly lied throughout this entire sham and it appears he's still lying. A defamation lawsuit says he colluded with Politico to leak information to further his sham impeachment effort.
Let's face it. This is not an impeachment, per se. It's an attempted coup d'etat by Democrats upset that Hillary Clinton lost in 2016. They also know that none of their current field of candidates can beat Trump in November.
It's time to hold all of these seditious conspirators to account for what they have done to the country since November 2016.
Related: