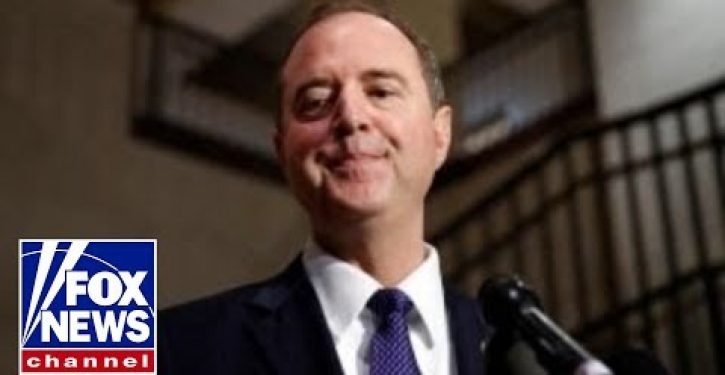 Mainstream media and Democratic members of Congress are taking extraordinary steps to keep the name of a "whistleblower" secret — although it's no secret who that individual actually is. It's time to stop the charade, announce his name, and have him testify.
President Donald Trump was criticized for retweeting an article that contained the name of an alleged whistleblower, whose claims prompted an investigation into a July 25 phone call Trump had with Ukraine President Volodymyr Zelensky.
Details of that phone call ultimately led to House Democrats taking steps to impeach the president, without alleging any actual criminal activity.
On Thursday Trump retweeted a post from his 2020 re-election campaign stating, "It's pretty simple. The CIA 'whistleblower' is not a real whistleblower!" along with a link to a Washington Examiner article that names the whistleblower in its headline.
Trending: Engaged at Warp Factor One: When submarines don't mind being seen
Raw Story, a far left news and opinion website, condemned the president's actions, and observed that "mainstream news sources have refused to publish in the interests of protecting federally recognized whistleblower safeguards against retaliation."
Given that the whistleblower's claims prompted the investigation against the president and that his name has been an open secret for months, what's the harm?
In late September Rep. Adam Schiff, who chairs the House Intelligence Committee, told the press that he intended to have the whistleblower testify at the House Intelligence Committee impeachment inquiry hearings. "We'll get the unfiltered testimony of that whistleblower," Schiff told ABC News "This Week" host George Stephanopoulos. "We are taking all the precautions" to protect his identity, he added.
After a month passed with no whistleblower testimony, GOP Reps. Jim Jordan of Ohio, Devin Nunes of California, and Michael McCaul of Texas sent a letter to Schiff calling him out for not following through with his September promise. "We are surprised by your announcement that the Committees will not receive testimony from the anonymous intelligence community employee whose complaint initiated the so-called impeachment inquiry," the letter said.
At that  point Schiff claimed he couldn't release the whistleblower's identity or "unfiltered testimony" because doing so would violate federal law.
Schiff repeatedly cut House Republicans off during the impeachment inquiry whenever it appeared the whistleblower's identity was about to be revealed, claiming that he has "a statutory right to anonymity."
For example, on Nov. 19, Lt. Col. Alexander S. Vindman testified that he spoke to "an individual in the intelligence community" about the July 25 Trump-Zelensky phone call. When House Intelligence Committee ranking member Devin Nunes asked the witness what agency the individual worked with, Schiff interrupted him twice.
"The whistleblower has the right — a statutory right to anonymity," Schiff said during his second interruption. "These proceedings will not be used to out the whistleblower."
However, FactCheck.org reported that whistleblowers have no such rights, adding that "the act of identifying the whistleblower … is prohibited only for the inspectors general and their staffs" — not members of Congress, the press, nor the public-at-large.
Even more curious, Schiff posted a Thanksgiving day photo on Twitter, which included his daughter's boyfriend. He bears a certain resemblance to the alleged whistleblower, and even has the same first name. This prompted some Twitter users to ask, "Your daughter is dating the whistleblower?" Politifact, however, asserts this photo does not depict the whistleblower.
One of the whistleblower's lawyers, Mark Zaid, called on Sen. Marsha Blackburn, R-Tenn., to resign from the Senate Whistleblower Protection Caucus for tweeting last month that "Vindictive [Lt. Col. Alexander] Vindman is the 'whistleblower's' handler."
"Members of Senate Whistleblower Caucus should protect #whistleblowers, not attack them," he tweeted. "@ODNIgov & ICIG has made it clear lawful protections exist. So why is Senator @MarshaBlackburn pretending to be bi-partisan Caucus Member given her many attacks?"
Other members of Congress have called upon the whistleblower to be identified and, at least in one case, have openly named him.
Sen. Rand Paul, R-Ky., told the media at a Kentucky Trump rally in November to "Do your job and print his name!"
During the opening day of the House Judiciary Committee impeachment hearings, Rep. Louie Gohmert, R-Texas, matter-of-factly named the whistleblower as a "fact witness" that the committee should hear from, rather than the four law professors who actually testified.
The Confrontation Clause of the Sixth Amendment to the Constitution provides that "in all criminal prosecutions, the accused shall enjoy the right … to be confronted with the witnesses against him."
It's time to end the charade of ignoring the whistleblower's name, and to call him before the Senate during trial to have him testify as to what he knows, and what he doesn't. Fait play any justice demand it.