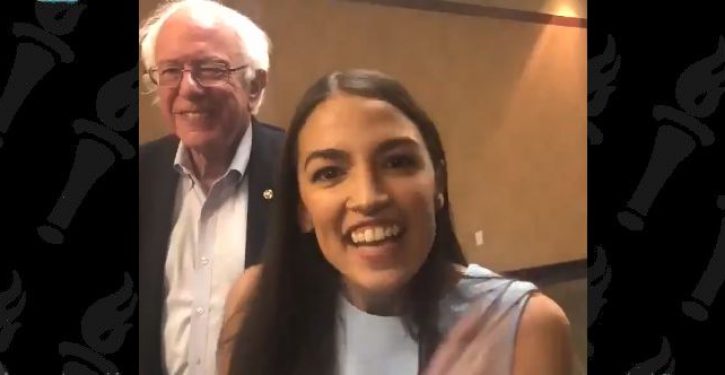 While warming up the crowd for Bernie Sanders in Los Angeles on Saturday, Democratic soothsayer Alexandria Ocasio-Cortez shared her bleak vision of the United States in its current incarnation and its even more dismal future. In her apocalyptic view, the nation is "not an advanced society" and, worse yet, is evolving into fascism under Donald Trump. Fascism? Someone give that gal a dictionary.
.@AOC on Bernie's rally in LA yesterday: "It is fascism what we have" in the United States, "what we're evolving into." pic.twitter.com/M6pjhneTxm

— Tom Elliott (@tomselliott) December 23, 2019
So who can save us as we sit poised at the brink? The freshman congresswoman answered that question by asking the crowd, "Are we ready for the revolution?" Has the revolution really become so watered down that a 78-year-old white man is the new messiah?
Trending: Biden daughter's diary spoke of being sexualized at young age, taking 'inappropriate' showers with Joe Biden
Breitbart added:
In another part of her remarks, the New York Democrat called Sanders' campaign "a movement that has been decades in the making" and said the time had come to put the interests of the working class ahead of the elites.

"We can't go back to the way things were before, because the way thing were before is how we got to where we are now.
It appears not to have dawned on the former bartender that the way things were before is how she got elected, but I digress.
We cannot go back to a world where the rich are put first and working people are put last in Washington day in and day out," Ocasio-Cortez said.

"I go into work all the time and I hear people saying, 'What will my donors think?'" she added in an apparent jab at 2020 candidate and South Bend, Indiana, Mayor Pete Buttigieg, who has faced pointed criticisms for holding a glitzy fundraiser in what fellow White House contender Sen. Elizabeth Warren described as a wine cave. "I see that billionaires get members of Congress on speed dial and waitresses don't, okay? There's a difference."
Perhaps Ocasio-Cortez is unaware that the candidate she is throwing her support behind is worth $2.5 million, which, if not a fortune, is still well beyond anything those who eke out a daily living can dream of.
Related: