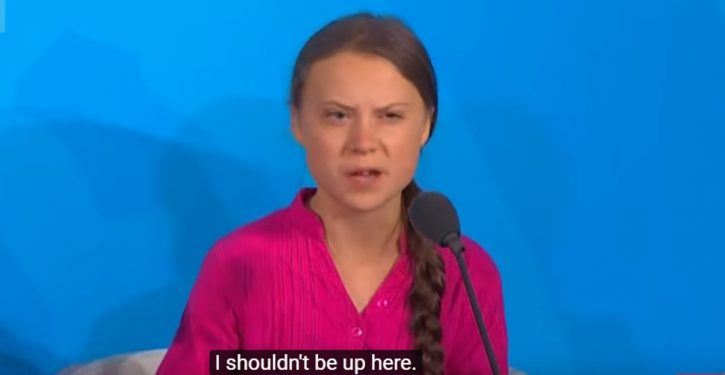 The Church of Sweden may have anointed her as a "successor" of Jesus (I'm not joking), but would-be climate savior Greta Thunberg will not be receiving the Nobel Peace Prize as many predicted after she paddled across the Atlantic in an outrigger canoe to warn the world that the sky is falling. (OK, it wasn't really a canoe. It was a "zero-carbon" high-tech racing yacht and two crew members needed to be flown to the U.S. to bring the boat back to Europe.)
There's no word on whether Thunberg (who is also crusading to make pigtails fashionable again) is upset by the decision, though she shouldn't be. She is only 16. There is plenty of time for her to win a Nobel Prize in the future. Barack Obama wasn't awarded his Nobel Prize until he was 48, and it wasn't until he was 55 that the Nobel secretary regretted the decision.
In the meantime, young Greta can hone her message. Or get one. When she appeared at the UN in September, she began her pitch by admitting, "I have not come to offer any prepared remarks at this hearing" and urged the members instead to read the report by the Intergovernmental Panel on Climate Change (IPCC). Well, hell, they didn't need some kid to tell them to read the Cliff Notes! They also didn't need to have some hyper-emotional child scold them for having "stolen my dreams and my childhood with your empty words. … How dare you." Then again, the UN thrives on such melodrama. For those who missed it, a video of Thunberg's rant follows:
Can they just give her the Nobel now? No reason for them to wait.
This kid has done more for climate change than the entire GOP. What a hero.
I hope everyone there is ashamed of themselves.

— Just Nizzle (@Nalini4Clearent) September 23, 2019
While I have no information on how Thunberg received the news that she had been passed over for a Nobel, I can tell you that the media are taking it hard. Newsweek serves up its report that the 16-year-old has been "snubbed" (their verb) by the Nobel folks with a predictable side of sour grapes.
… Norway, where the five members selected to serve on the committee are chosen by the Norwegian parliament … has a complex relationship with greenhouse gas-emitting fossil fuels, which historically have been (and arguably continues to be) a major source of Norway's wealth.

"Norway has benefitted from oil and gas production in multiple ways, but primarily from the security and economic advantages they have derived from exporting energy to other parts of the world," Michael Webber, Josey Centennial Professor in Energy Resources at the University of Texas at Austin and Chief Science & Technology Officer at ENGIE, told Newsweek.
So not only is Norway attempting to conceal the truth about global warming. They're withholding the prize for purely cynical, self-aggrandizing reasons.
Got it.