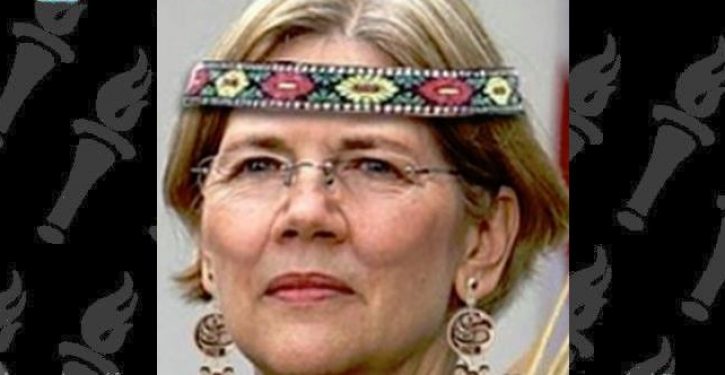 After claiming for years to have Cherokee blood coursing through her veins and using her alleged American Indian connection to advance her career, Democratic Sen. Elizabeth Warren may have been closer to the truth than she ever knew. It appears as though her family did have an Indian connection, only they came up on the wrong side of history.
Rebecca Nagle, an Amerindian activist and genuine citizen of Cherokee Nation, has written an article for the HuffPost claiming that Warren's family,  the Crawfords, were "white squatters" on Cherokee land. According to the piece, which is titled "Elizabeth Warren Has Spent Her Adult Life Repeating A Lie. I Want Her To Tell The Truth":
In 1836, Warren's great-great-great-grandfather, a white man named William Marsh, enlisted himself in a Tennessee militia to fight in the "Cherokee War," an occupation of Cherokee land in the lead-up to the Trail of Tears. Decades later, his grandson John Houston Crawford moved his family onto Indian Territory and squatted on Cherokee land in a move that, with no record of a permit, was almost certainly illegal.

The Crawfords were just some of the tens of thousands of white squatters who outnumber Cherokees on our own land. While Cherokee Nation beseeched Congress to enforce our treaty rights and kick them out, the squatters pushed Congress to divide up our treaty territory and create a path to white land ownership; the squatters won.

The Crawfords settled in the new state of Oklahoma. They lived among Indians, but it wasn't always peaceful. In 1906, John Crawford shot a Creek man for hitting his son. According to The Boston Globe, his son, Rosco, would later tell stories about how "mean" the Indians were. But one of Crawford's grandchildren, Pauline Reed, told a very different story. Not a story of living among Indians, a story of being Indian.

Pauline's youngest child, Elizabeth, grew up with her mother's version of the story. And though the family had no evidence or relationship to the tribe, Elizabeth Warren never questioned it, she wrote in her memoir. It was her family story, she would say.
While Nagle does lend credence to Warren's repeated claim that she was taken in by the tall tales she was told as a child, in the next breath she takes Warren to task for perpetuating those lies into her 70s, writing:
Warren isn't a kid anymore. She is a United States senator running for president. If she is not in a position that demands accountability and truth, who is?
Who indeed?
Ordinarily accounts like Nagle's are ignored by the Left or swept under the rug. However, the fact that it first appeared at a hard-left website has made that task a little tougher. The story has already been picked up by ThinkProgress, another lefty site.
Will Warren speak out? Whether she does or not, will she be damaged by the story?
Stay tuned.