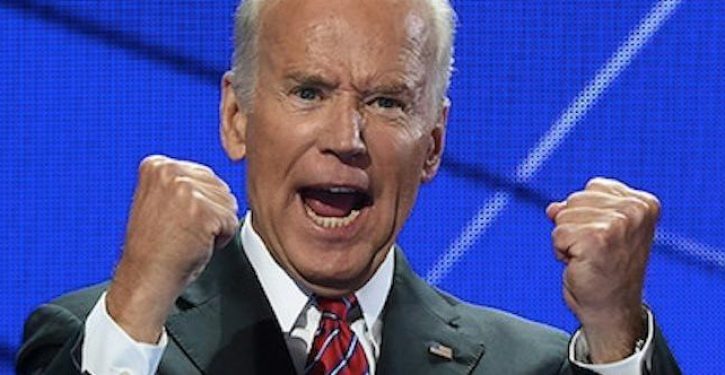 Apparently, presidential hopeful Joe Biden isn't beyond the unwanted touching of women. While making an appearance at the Iowa State Fair on Thursday, Biden was captured on video snapping at and grabbing the arm of a coed who asked him a "trick" question. At least, that's how Crazy Uncle Joe perceived the question.
The incident, which was captured on video, was shared in a tweet by Turning Point USA's Charlie Kirk, who explained that the questioner, identified as "Katie," was one of the organization'a "young field staffers."
My team just forwarded this video to me

Watch former Vice President Biden forcefully grab one of our young field staffers at yesterday's Iowa State Fair after she asked him how many genders there are pic.twitter.com/1qmpJxJlzO

— Charlie Kirk (@charliekirk11) August 9, 2019
Trending: Build Back Better Act will give you $12,000 for purchasing an electric car — but not if it's a Tesla
So what curve ball did Katie throw? She asked the would-be far-left Biden how many genders there are. The former vice president thought for a bit before answering, "There are at least three."
Katie followed up with the logical question "What are they?"
Biden lost his cool and told the young woman, "Don't play games with me, kid!"
But he wasn't finished. Soon after, he grabbed Katie by the arm and told her, "Oh by the way, the first one to come out for marriage was me."
Katie later said she was "very mad" at the treatment she received from Biden.
Reaction on Twitter was pretty much what you'd expect.
Omg the man has lost it.

— MAGA QUEEN ??? (@greenleafpub) August 9, 2019
Yes, he has, but then again, so has the entire Democratic Party and their allies.  Neverforget, it was Hollywood that came up with a movie about liberal elites murdering Trump supporters and advocates storming the homes of Trump supporters with "pitchforks and torches."
Laying hands on another individual with permission, incidentally, is assault, a reality that prompted one Twitter user to write:
I hope that young lady files an assault charge against Joe

— Mark Wingate (@WINGATE1MARK) August 9, 2019
Related Articles